PawnOnTheCobb is the social media outlet used by GoldGirl to express and share her unique work environment and love for culinary excursions, because nothing is better than good food, wine, and all things gold.

Browsing articles tagged with " vintagegold "
Cozy sweaters, ski slopes, chunky gold jewelry, and hot chocolate are a few things that make winter in NYC bearable. Whether I am visiting a ski resort and at après ski, or trekking through the winter storms on the streets of New York City, I find my gold jewelry to be a second skin to me, just like my long-­‐johns and Vince sweaters. My key winter accessory advice is go big with gold and layer what you can.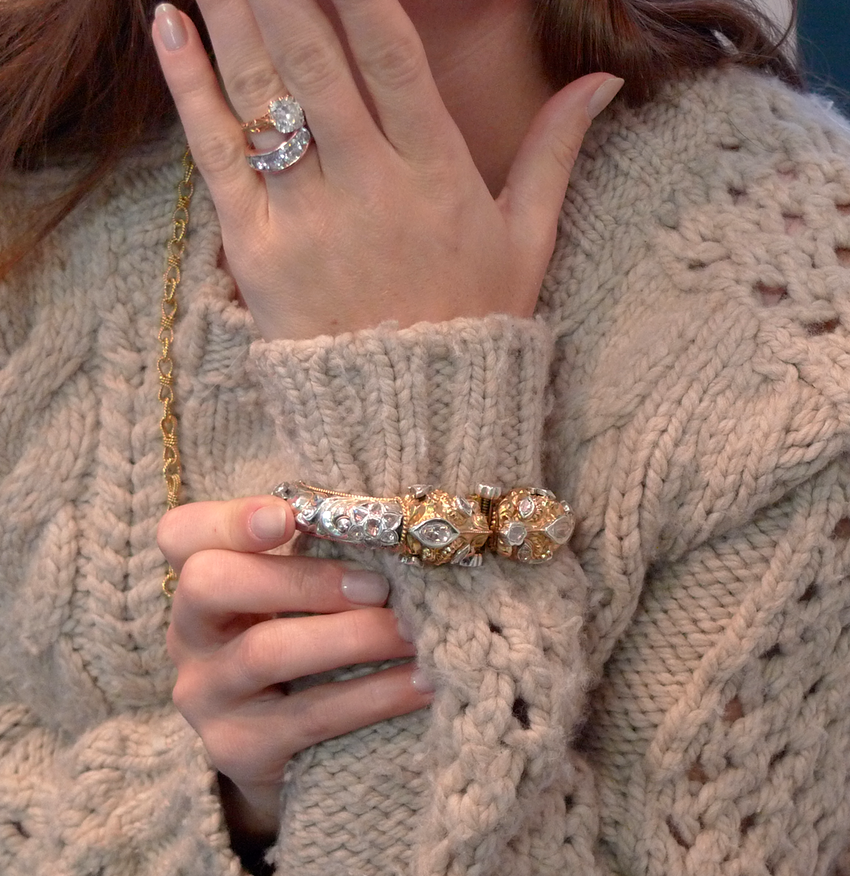 Read More...
At this time you have probably already seen the good and the bad, have analyzed who was wearing what (loved Michelle Dockery's choice in jewels) and seen the latest predictions for upcoming fall fashion based on celebrity styles on the red carpet at the Emmy Awards. Therefore, with Breaking Bad making a serious sweep and capturing the attention of the nation's TV viewers, I have decided to take a unique twist on Emmy's style and pair up vintage gold jewelry with the dynamic lead cast as their characters may have worn it in the actual show.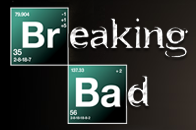 Read More...
Exhibitors and guests can typically be overheard discussing "the show" over at The Paris hotel while attending Couture, the esteemed exhibition for the very best and most elegant in fine jewelry. However, the "show" that is being referenced is very often the Vintage Jewelry and Watch Show a mere few hotels away. The reason for its popularity and ability to draw the most critical eyes in the jewelry world are the glimmering possessions transcending centuries that are on display by seemingly "proud parents" (aka dealers), who are willing to tell all about their most valued pieces and their fascinating histories. Although I discussed tips for seeking out the best in rare pieces at a vintage show, here are a few that still have me thinking- when will I see this piece again? The show will be making its way to NYC on July 25th, so thankfully very soon!
Read More...
A treasure hunt of gold jewelry is one to never turn down. Therefore, the antique watch and jewelry show is a great way to view vendors who collect and sell their vintage jewelry. This show travels around and can be seen in NYC next July. I attended the latest show in Las Vegas during jewelry week. It can get a bit overwhelming, so here are my tips if you ever plan to check a vintage jewelry show out
Read More...
We've all been there. It's less than a week before Mother's Day and you're at a loss of what to buy for that special person in your life. You know she loves jewelry, and vintage pieces are the style she usually gravitates towards, but now what? Read more to find out!
Read More...
With as brutal of a winter as I could ever remember, I am confident I am not alone when I say I could not be happier to welcome anything spring-related in New York City.
As a result of my ambitious need for springtime to hurry, here are a few pieces that foreshadow days of sunshine and light jackets.

Read More...
While the left coast floated to luncheons, dinners, and events leading up to the Golden Globes in LA, the who's-who in jewelry in NYC attended THE jewelry industry event of the year, The Gem Awards.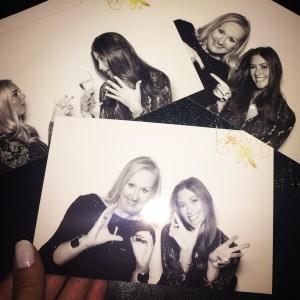 Read More...
Whether it's Coachella, Ultra, or SXSW dressing for a music festival will always be a tricky feat to conquer. One common and often faced dilemma is the need to look stylish and cute, yet comfortable and versatile in the transition from day to night events. We decided to hit the streets and the most sought after parties to seek out those who mastered the "festival" looks with gold jewelry…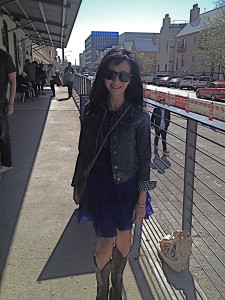 Read More...
Welcome to Neil Lane, a Beverly Hills institution whose namesake is synonymous with fine vintage jewelry adorned by Hollywood's A-Listers (Angelina Jolie, Madonna and Charlize Theron, to name a few)…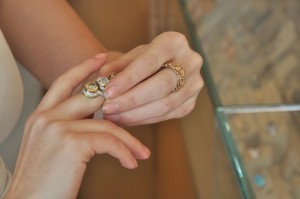 Read More...
The Goldgirl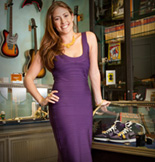 Lauren Kaminsky- aka The Gold Girl is a young entrepreneur in Manhattan. Working in her father's pawnshop is anything but ordinary and each day leads to something new. Passionate about the gold items that come her way, Lauren shares them and her daily excursions with us on this blog.