PawnOnTheCobb is the social media outlet used by GoldGirl to express and share her unique work environment and love for culinary excursions, because nothing is better than good food, wine, and all things gold.

Browsing articles tagged with " Gold "
In a marketplace full of every fake item you can imagine, from Rolexes to Celine bags, it is no wonder that this Asian-world understands the value of a precious metal. For centuries Buddhist temples have been created by pooled funds from the local communities to use gold leaf to decorate vast columns. Buddha's that have outlived wars and destruction were made in the rich gold-tone. Everywhere you turn throughout Bangkok, there most likely is something made of gold. I was in "gold-girl" heaven.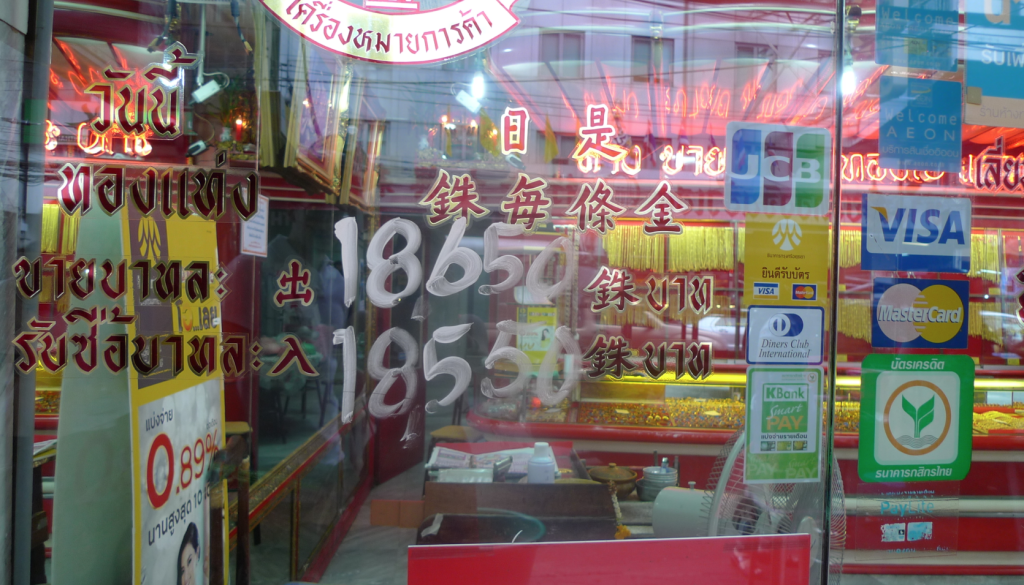 Read More...
On Wednesday evening, LoveGold and I hosted the first "Golden Hour" in the pawnshop at Beauty & Essex. The event was dedicated to the launch of the store's "Charm Bracelet Bar." Editors and guests sipped champagne and dined on Chef Chris Santos' well-known light bites, such as grilled cheese and tomato soup dumplings, while browsing through the vast collection of gold vintage charms. Read more.
Read More...
For a new twist on fall fashion, I tried incorporating the latest fall color – blush – with the best in current vintage yellow gold jewelry. Fall is a favorite season of mine, and typically goes hand in hand with autumn browns and deep burgundy shades, which all complement yellow gold very well. This season I challenge you to do the same and mix it up. Hold on to your pastel wardrobe for as long as you can and always add some gold to bring out the best of this season's soft airy light pink hue.
See the link for my picks of this season's blush with gold pieces.
Read More...
Picture what fresh rain droplets look like when they have just fallen on a big green leaf. Now imagine what that would look like if the rain were replaced with droplets of 18kt gold and the leaf was a rare jet-­‐black fossil over a million years old. This ingenuity is why creative designer, Jacqueline Cullen, is making fascinating fine jewelry & explains why her line nearly sold out on Net-a-Porter. Her inventive and show-­‐stopping pieces use a material known as Whitby Jet, which was very popular in Victorian Mourning jewelry. She then uses a unique process where 18kt gold is applied to pins and embedded down into the jet—so cool! I was able to first catch up with the designer at Couture in Las Vegas, and now presented her with a few questions. Check out my interview with the designer below.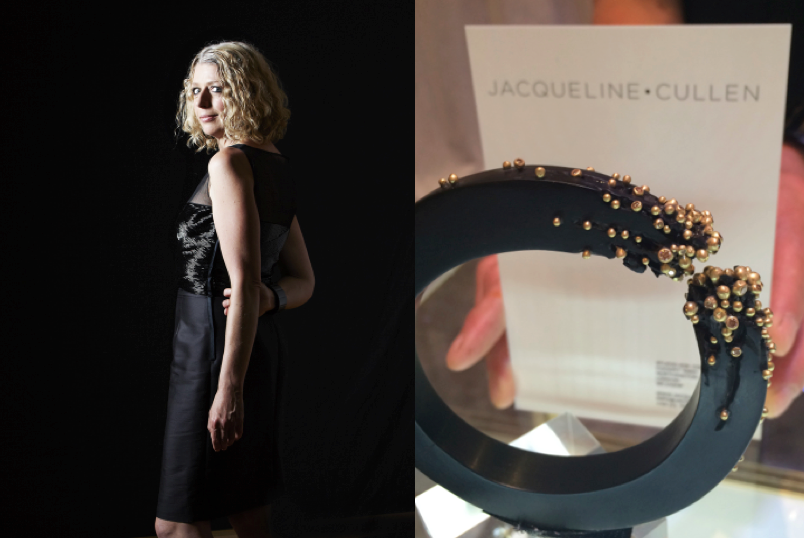 Read More...
As you would expect it to be, right smack in the middle of Soho is the Fragments Jewelry showroom. Fragments, for those who do not know, is a specialty PR house that represents and also sells (only a few doors down) a number of well-known jewelry designers and their collections. Therefore, when an editor's breakfast is called upon, whether rain or shine, all will come to check out the newest dazzling pieces that grace the Fragments showcases.
Read More...
In my opinion, an ideal summer weekend in New York City consists of either two things- a rooftop BBQ in the city or an escape outside the concrete jungle. Luckily for me, this weekend I was able to experience the best of both worlds. Among my weekend travels, not only was I surrounded by great company, I also spotted some perfect summer jewelry. Check out some of the highlights at the link:
Read More...
We've all been there. It's less than a week before Mother's Day and you're at a loss of what to buy for that special person in your life. You know she loves jewelry, and vintage pieces are the style she usually gravitates towards, but now what? Read more to find out!
Read More...
Mother's Day is right around the corner and if you are looking for the perfect gift, look no further than the options featured on today's blog post. Here's a sneak peak to one of my favorites for a Mom who loves keepsakes: Jennifer Fisher 14kt gold bangles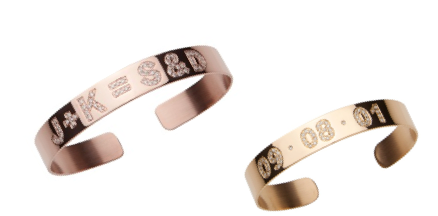 Read More...
This weekend I was lucky enough to escape New York City with my fiancé and head south to Miami. I packed in preparation of wearing my boldest and "gold-est" accessories, especially knowing that when in town I would be in good company of some serious gold aficionados (see my pic from lunch with the Buddha Mama ladies).
Read More...
It was once told to me that jade in the shape of an egg is a symbol of good luck. Whether true or not, this stuck with me and, as a result, when I curated my first collection of gold vintage jewelry to be sold at Beauty & Essex, one of the pieces was an 18kt gold bracelet with jade hanging in an egg shape. It sold within days of the opening. Read more for less obvious good luck charms found at the store this week!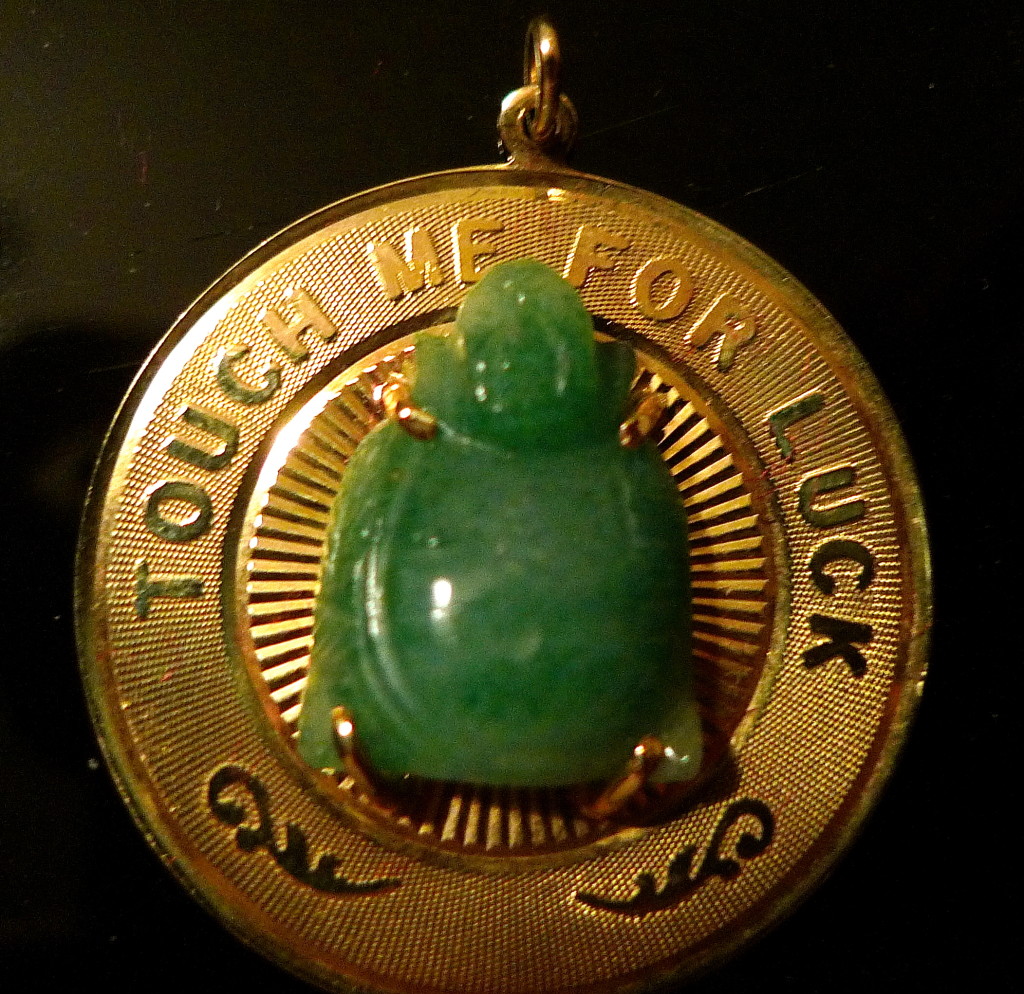 Read More...
The Goldgirl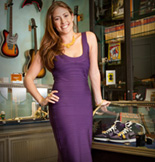 Lauren Kaminsky- aka The Gold Girl is a young entrepreneur in Manhattan. Working in her father's pawnshop is anything but ordinary and each day leads to something new. Passionate about the gold items that come her way, Lauren shares them and her daily excursions with us on this blog.