PawnOnTheCobb is the social media outlet used by GoldGirl to express and share her unique work environment and love for culinary excursions, because nothing is better than good food, wine, and all things gold.

Browsing articles in " His Jewelry "
If the guys in your life are anything like the ones in my family then taking to jewelry has been something they have had to warm up to. With the exceptions of owning a few staples, gifting jewelry is not always easy for someone who rarely wears it. Therefore, I suggest staying with the classics and help build a collection that he can use and have forever. Read more for my suggestions in best in gold for him!
Read More...
The Goldgirl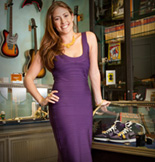 Lauren Kaminsky- aka The Gold Girl is a young entrepreneur in Manhattan. Working in her father's pawnshop is anything but ordinary and each day leads to something new. Passionate about the gold items that come her way, Lauren shares them and her daily excursions with us on this blog.