PawnOnTheCobb is the social media outlet used by GoldGirl to express and share her unique work environment and love for culinary excursions, because nothing is better than good food, wine, and all things gold.

Browsing articles in " Hidden Gems "
If the guys in your life are anything like the ones in my family then taking to jewelry has been something they have had to warm up to. With the exceptions of owning a few staples, gifting jewelry is not always easy for someone who rarely wears it. Therefore, I suggest staying with the classics and help build a collection that he can use and have forever. Read more for my suggestions in best in gold for him!
Read More...
As the holidays are quickly approaching it is always a good idea to gift items that will not only sparkle and shine but will also retain value for many years to come (she wants jewelry, duh!). With so many great jewelry designers out there, it is hard to go wrong with a jewelry gift, however, navigating through to find what is best for that special someone is what I am here to help with! Here are a few of my favorite pieces that would be great gifts for her, check back next week for gifts for him.
Read More...
My family has shaped my entire perspective on the buying and wearing of gold jewelry. Like a rite of passage passed down to me from generations above, gold and its everlasting value has been a topic at my household family gatherings and dinners for years for as long as I can remember. "Where was gold at today?", my grandfather would ask constantly. At the time, this question was confusing, but what I did understand was that gold was special. Read more.
Read More...
A wild imagination along with the skills necessary to create beautiful and unique pieces are important tools a designer needs for success. Wendy Brandes is a designer who implements all of these tactics. Her eccentric and intellectual personality draws you in and are the reason for her quirky, inventive and original pieces. Inspired by powerful women, English literature, and obsessed with mechanical pieces (think spinning globes) her line makes you do a double and even triple take. I couldn't believe my eyes – you need to check out these artistic, story-telling symbolic pieces.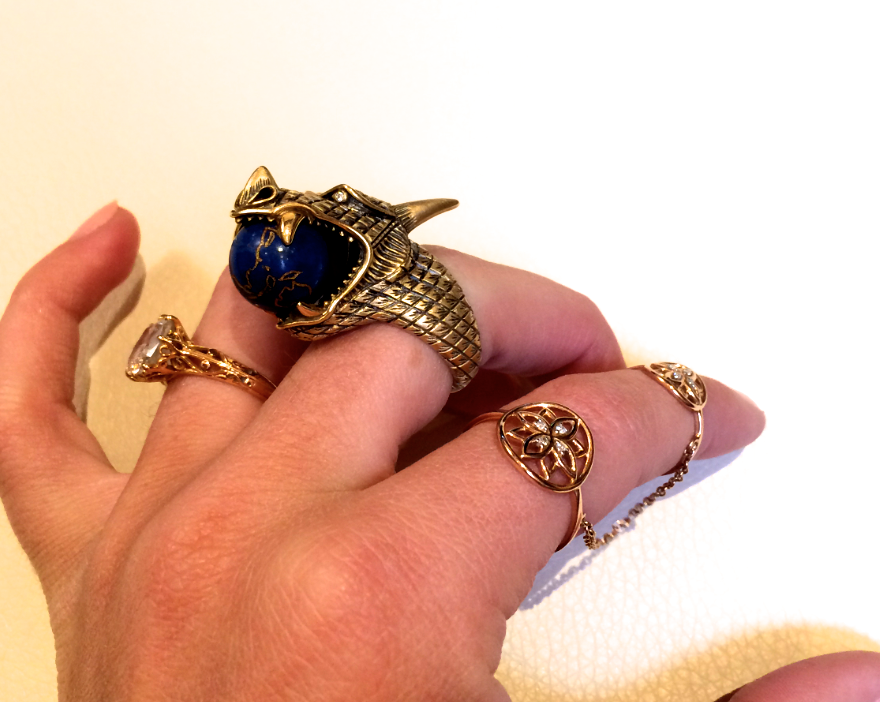 Read More...
Exhibitors and guests can typically be overheard discussing "the show" over at The Paris hotel while attending Couture, the esteemed exhibition for the very best and most elegant in fine jewelry. However, the "show" that is being referenced is very often the Vintage Jewelry and Watch Show a mere few hotels away. The reason for its popularity and ability to draw the most critical eyes in the jewelry world are the glimmering possessions transcending centuries that are on display by seemingly "proud parents" (aka dealers), who are willing to tell all about their most valued pieces and their fascinating histories. Although I discussed tips for seeking out the best in rare pieces at a vintage show, here are a few that still have me thinking- when will I see this piece again? The show will be making its way to NYC on July 25th, so thankfully very soon!
Read More...
Ear cuffs were a large part of Couture, and jewelry designers were not shy to show off their most creative and stylish pieces. Another trend that I really enjoyed seeing were gold headbands. Whether used as a glimmer of gold wire in your hair or a statement crown for a black tie affair, gold headpieces are a trend that has been around for centuries. I am not opposed! Read more for some of my favorite gold pieces.

Read More...
As I look back on my trip to Greece, I cannot neglect to write about one of the highlights from my trip: the Gold Jewelry Bazaar in Fira, Santorini. Gold translates no matter where in the world you are and, in the Greek islands, the rich yellow gold metal was everywhere. My first stop amongst all of the fine jewelry stores in Fira was the highly regarded Greek designer, Lalaounis.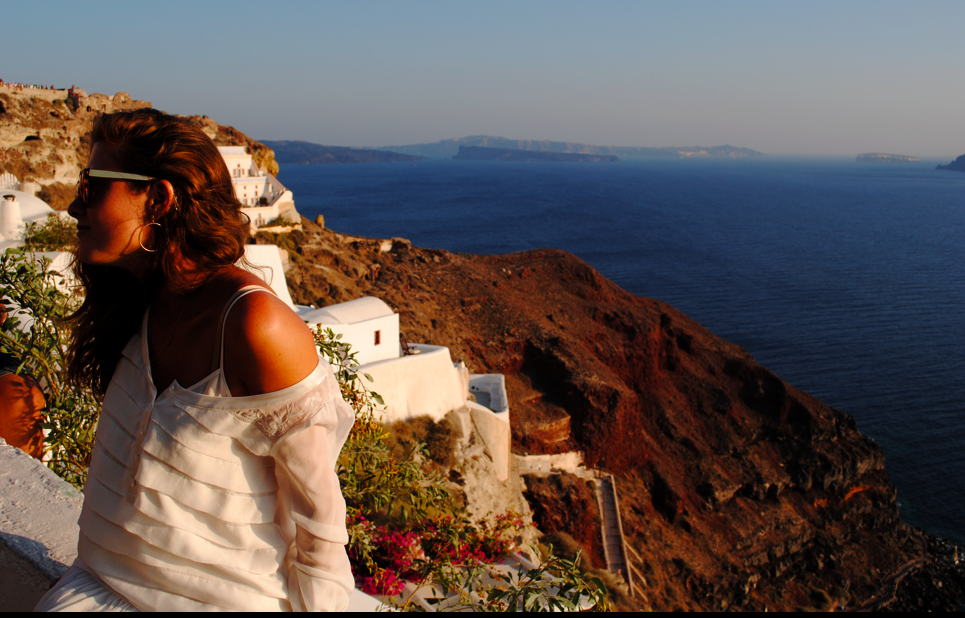 Read More...
Hot chocolate season is still months away, but in the fashion world we are already putting together our outfits for the spring 2014 season. To keep you up to speed- here are my top spotted trends from NY Fashion Week 2013 and how you can work in some fabulous gold jewelry to supplement the spring styles seen on the runway.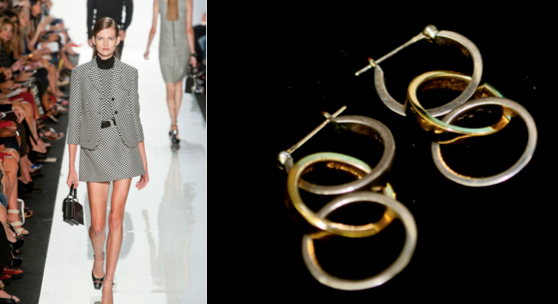 Read More...
A completely different but equally remarkable breed of jewelry display took place a few hotels down from the Couture show and was not to be missed.  The Antique Jewelry and Watch Show at the Paris Hotel was a vintage jewelry enthusiast's playground.  Store-owners, collectors, and exhibitors worked the ballroom as jewelry dating back to the 1800's was brought, sold, and traded…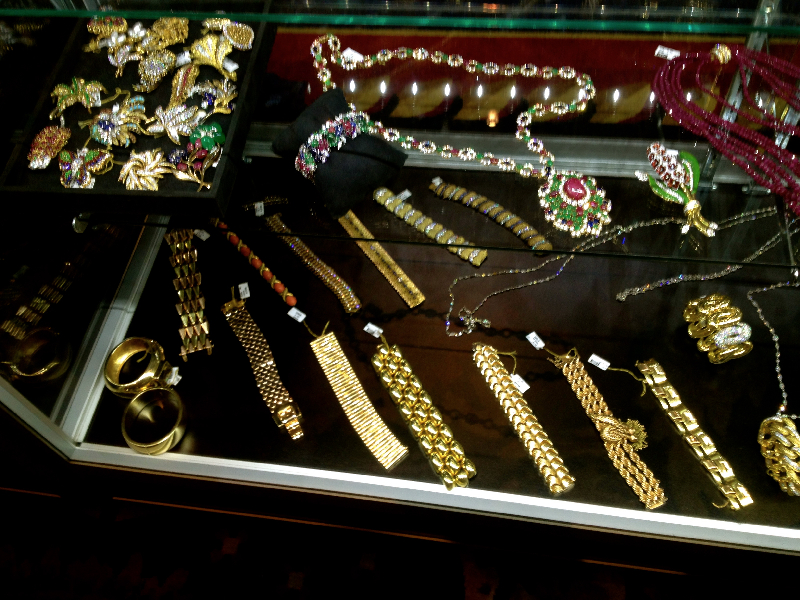 Read More...
The Goldgirl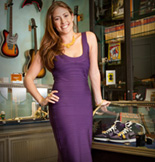 Lauren Kaminsky- aka The Gold Girl is a young entrepreneur in Manhattan. Working in her father's pawnshop is anything but ordinary and each day leads to something new. Passionate about the gold items that come her way, Lauren shares them and her daily excursions with us on this blog.