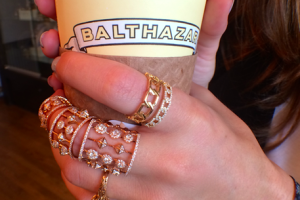 As you would expect it to be, right smack in the middle of Soho is the Fragments Jewelry showroom.  Fragments, for those who do not know, is a specialty PR house that represents and also sells (only a few doors down) a number of well-known jewelry designers and their collections.  Therefore, when an editor's breakfast is called upon, whether rain or shine, all will come to check out the newest dazzling pieces that grace the Fragments showcases.
With many fine jewelry displays set up throughout the showroom, I was able to scope out a newcomer from Paris name Marli.  This designer is making great gold jewelry with simple geometric shapes and styles.
Here are a few pieces that caught my eye:
Always drawn to inventive gold pieces, it wasn't shocking that I also immediately noticed this little gold-guy bracelet made by Borgioni in rose gold.
Who wouldn't have fun dressing up with these whimsical shaped cocktail rings by Yeprem?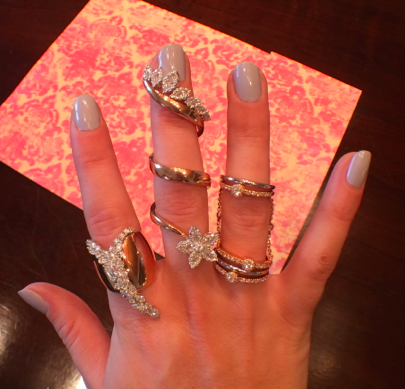 Alison Cohen, Director of Public Relations at Fragments, wore an amazing Moritz Glitz necklace filled with diamonds (see below).  When asked about the overall turnout of the event, Cohen stated,  "most of the guests gravitated towards the unique styles of Yeprem, with intricate hand pieces, or Wendy Yue's one-of-a-kind pieces."  She also mentioned that styles by Jane Taylor and Margery Hischey drew people in with great colors used in the designer's bigger pieces.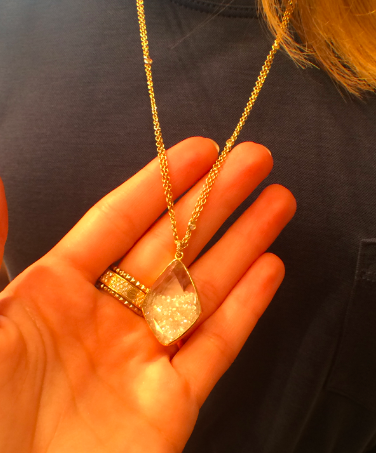 Wendy Yue's pieces are gorgeous in color and style.  I loved these outrageous flower rings.
I also really loved these playful bands by Suzanne Kalan.  They are great for stacking together and show a new twist with baguette diamonds set in 18kt gold – a great style that her name has become synonymous with.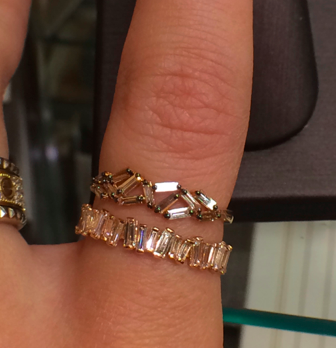 This post was brought to you in collaboration with LoveGold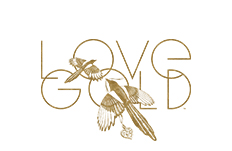 1 Comment
The Goldgirl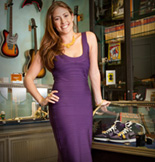 Lauren Kaminsky- aka The Gold Girl is a young entrepreneur in Manhattan. Working in her father's pawnshop is anything but ordinary and each day leads to something new. Passionate about the gold items that come her way, Lauren shares them and her daily excursions with us on this blog.