When it comes to gold, I prefer yellow or rose.   With wine, in the summer I like a crisp rose and in the winter, a dark, earthy red.  However, when it comes to gemstones, a deep-hued stone or even multiple shades are great ways to add some color to your usual collection.
Check out the below for my favorites from Couture 2014 in this week's trend profile.
Kwiat: Well known for its beautifully cut diamonds and sophisticated collection of fine jewelry, Kwiat, has come out with this collection geared towards a more playful wearer of jewelry.  My favorites were the gold bangles with a rainbow assortment of gemstones & the bangle bracelet with a variety of colored stones pictured below (all in 18kt gold).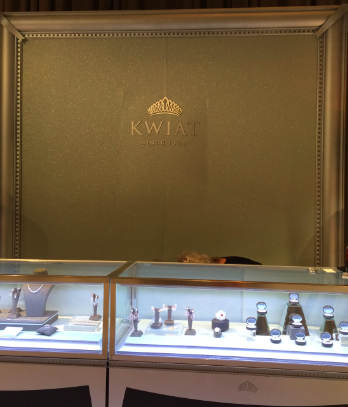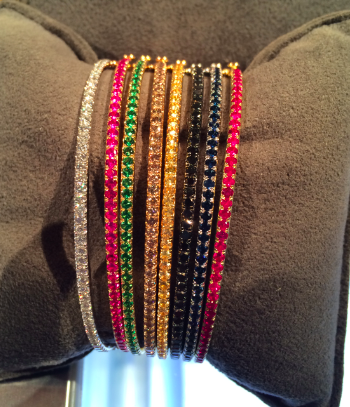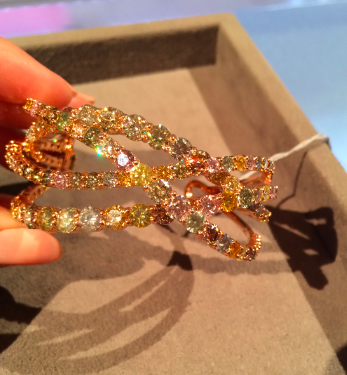 Allison Lou: A young designer with a very relevant collection of emoticon jewelry definitely knows how to play up enamels and gemstones.  Below is a picture of one of my favorite emoticon faces in ruby gemstones, followed by a sample of Allison's current collection (worn by the designer herself).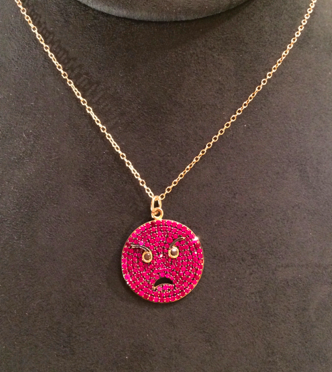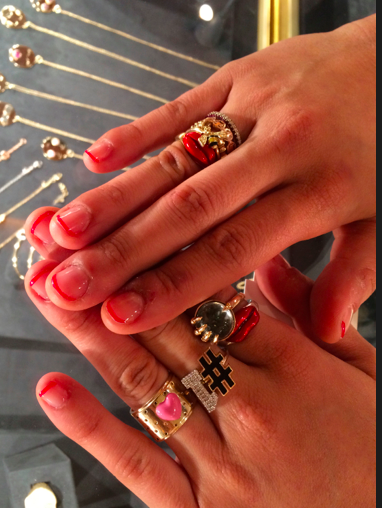 Coomi:  Inspired by the timeless beauty of the mosaic stones found on the dome of the Taj Mahal, this "Luminosity" collection with rubies is absolutely breathtaking in person and really allows both the 22kt gold and the pink-hued precious gemstones to complement each other perfectly.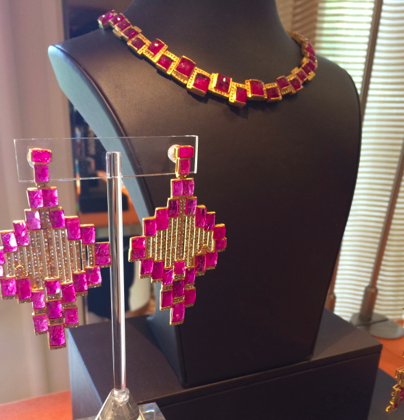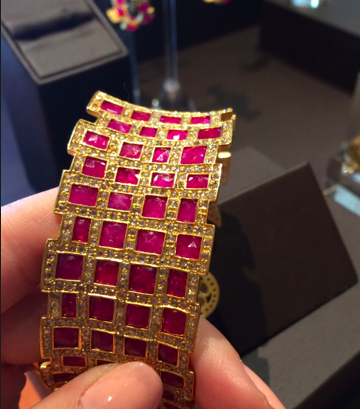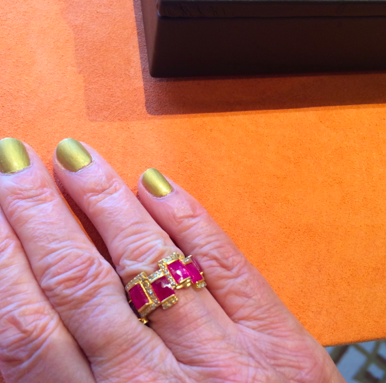 Alice Cicolini: Based in London and part of the Stephan Webster "Rock Vault" collection, Cicolini showcased a fantastic line of playful pieces made with vibrant colors in enamel and also with gemstones.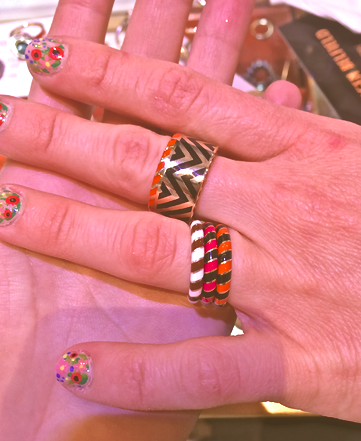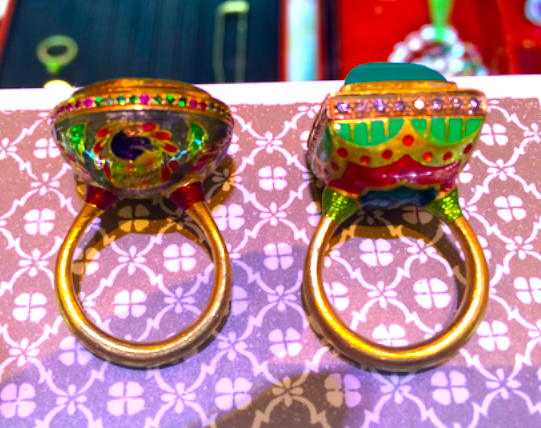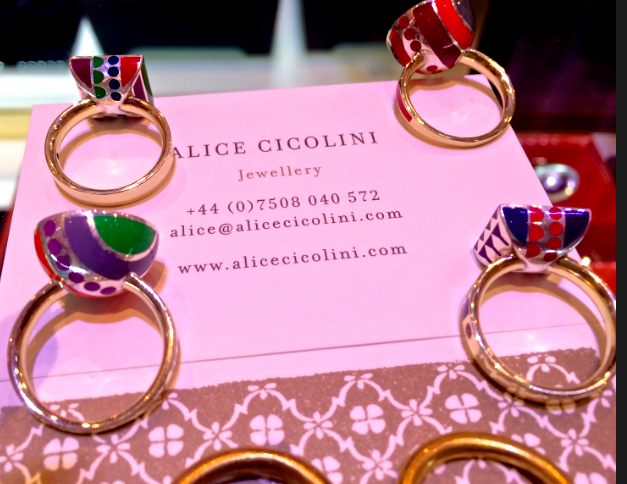 Andrea Fohrman:  Known for her celestial inspired pieces, this designer is making beautiful, unique jewelry.  I loved her rainbow-colored use of these diamonds surrounding this 18kt gold personalized pendant (note that the moon's phase is part of this piece, which was symbolic to the wearer).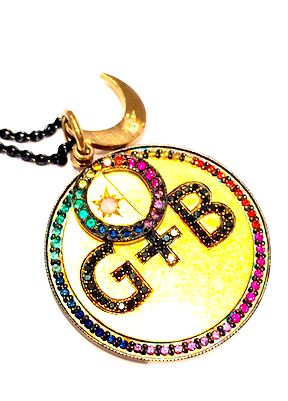 Jacquie Aiche:  As a designer that represents the "perfect beach jewelry" in my opinion, she has definitely mastered the use of natural gemstone with "popping" colors in her collection.  Here is a mix of a pink tournmaline double stone ring, an abalone double horn cuff, and a deep blue crystal bangle.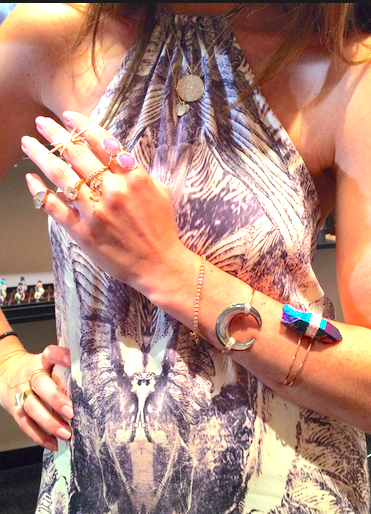 Just to show that colored stones have always been relevant, below are the18kt gold with emerald cabochon vintage Cartier rings from Larry Platt, which I scouted out at the Vintage & Estate Jewelry Show.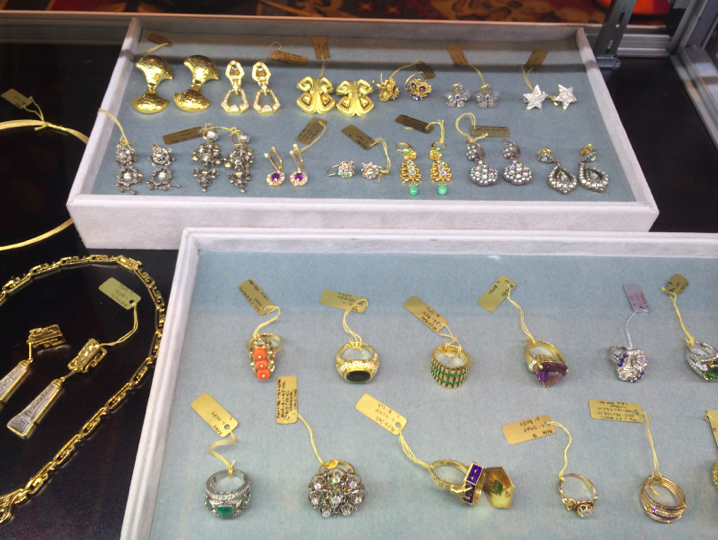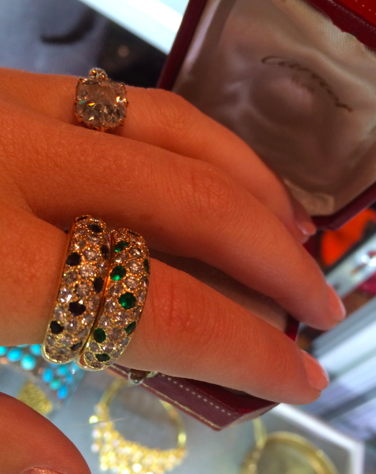 This post was brought to you in collaboration with LoveGold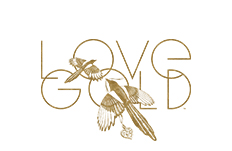 1 Comment
The Goldgirl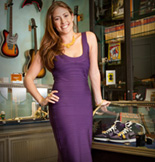 Lauren Kaminsky- aka The Gold Girl is a young entrepreneur in Manhattan. Working in her father's pawnshop is anything but ordinary and each day leads to something new. Passionate about the gold items that come her way, Lauren shares them and her daily excursions with us on this blog.