Ranging from ear cuffs to headbands, the places you can adorn with gold jewelry are endless and jewelry designers are leaving little "real estate" uncovered. These featured designers show off just how wild their imaginations can go as they take "wearable fine jewelry" to a whole other level. This week will start with ear cuffs, followed by more "inventive" fine jewels next Monday. Check it out the below & stay tuned!
From snakes to a simple diamond streak, ear cuffs are the new "it" piece of jewelry. Whether you choose to embrace it or slowly get your ear "wet", here are a few great gold pieces from Couture 2014.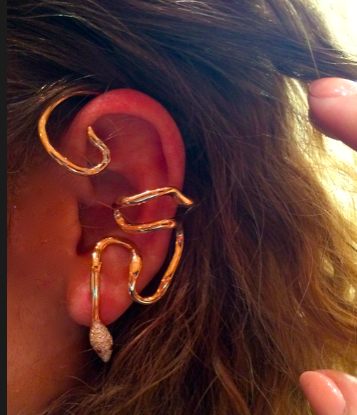 This 18kt gold with diamonds snake ear cuff is made by Kismet by Milka and worn here by designer, Milka, who "doesn't believe in symmetry." These earrings are made to be unconventional and to wear on only one ear.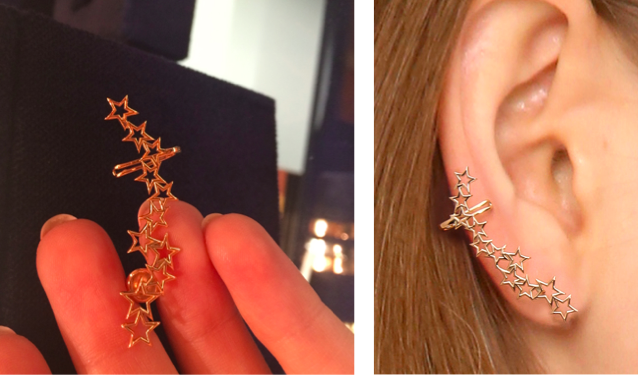 Also by Kismet is this star ear cuff. This piece is made out of 14kt gold and is the perfect "in between" ear cuff for someone looking for a little more than a simple option. (2nd image from Shopbop so you can see how it's worn)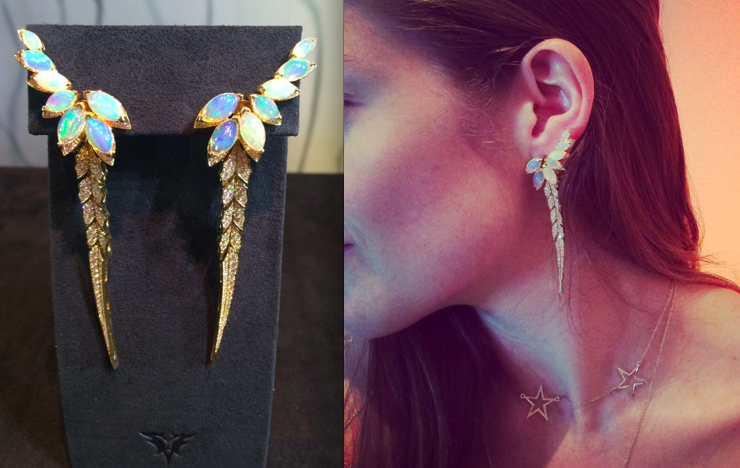 These are the perfect special occasion earring from Stephen Webster's  Magnipheasant collection. These gold and Ethiopian fire opal with diamond earrings also detach so one can only just wear the opal section. Very elegant and chic.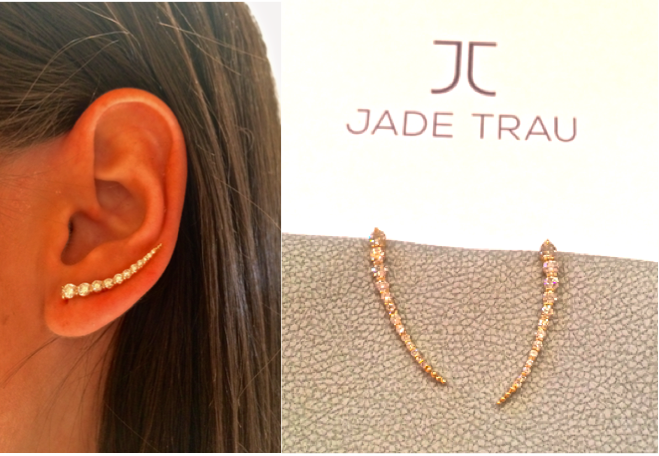 Jade Trau's  line for Forever Mark featured this beautiful diminishing diamond with gold ear cuff & can usually just be worn as a single with a diamond stud in your other ear. Definitely my favorite for an every day look!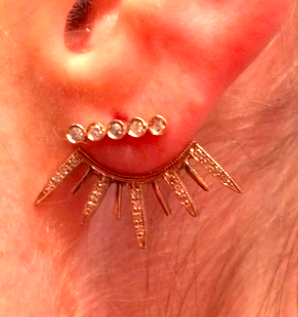 Lastly, Jacquie Aiche's 14kt gold ear cuff/ear jackets can be worn with your own diamond stud and then used to pop out behind your ear. A little subtler than some other ear cuffs shown, but stands out and has a great edgy look.
This post was brought to you in collaboration with LoveGold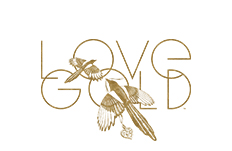 1 Comment
The Goldgirl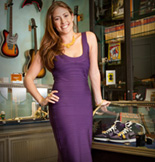 Lauren Kaminsky- aka The Gold Girl is a young entrepreneur in Manhattan. Working in her father's pawnshop is anything but ordinary and each day leads to something new. Passionate about the gold items that come her way, Lauren shares them and her daily excursions with us on this blog.