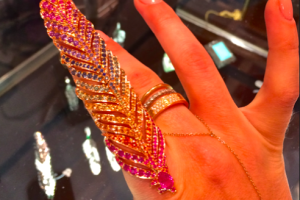 This week Vegas saw its yearly influx of jewelry industry professionals as they all convened to attend the jewelry shows that occurred in the city that really never sleeps!  Between JCK, Couture, & The Antique and Vintage Jewelry Show, the city was buzzing with gold, diamonds, and a constant vibe of positive energy.  Although many of us were exhausted after each day's events, that didn't stop us from seeking out the best in gold designs.
Since I split my time between Couture & the Vintage Show, here is a little preview of what trends I foresee in jewelry based on items viewed at the shows.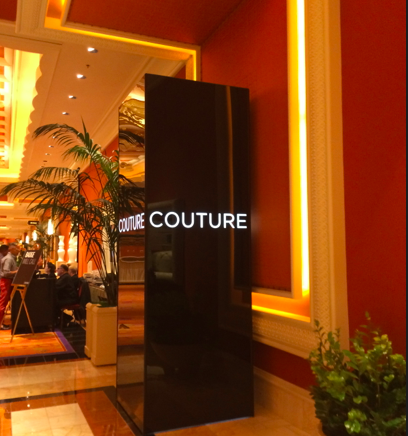 For those who don't know, the Couture show is a luxury tradeshow that focuses on the best in fine jewelry.  Designers are usually set up in one of the 2 ballrooms, in their own private meeting rooms, or in their own suite.  The show is known to be a breeding ground of the newest in jewelry trends, especially since it is likely that designers will launch their latest collections at the show
On the other hand, The Vintage & Antique Watch & Jewelry Show is a smaller selection of the best dealers in second hand jewelry pieces.  This show is more of a treasure hunt featuring high-end but also less expensive pieces and is a great place to find rare, unique gold jewelry.  I also find that talking to the dealers is a great way to learn the most about a piece's history.
Jewelry Trends Spotted this Week:
Yellow Gold:  Obviously, yellow has always been a favorite of mine.  However, there is usually more of a balance that I see between pieces made in yellow and white gold. To the contrary, this year I noticed a definite increase in the yellow gold presence.  Bangles, rings, and earrings have made a big shift towards more yellow and rose gold pieces.
Mythical Pieces:  Animals such as butterflies, snakes, and birds were seen throughout the show and were used in a wide-range of imaginative ways.  For example, here is an 18kt gold piece that features "caged butterflies" by Sorrelina.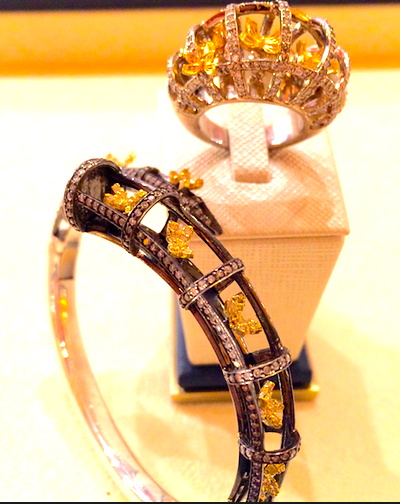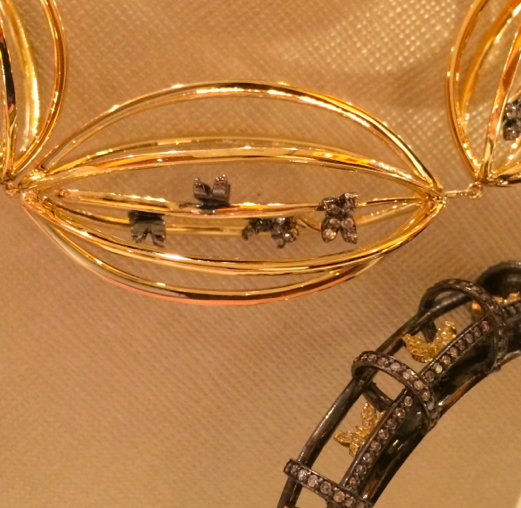 Inventive Pieces:  If a part of your body is not adorned with jewelry, designers are coming up with creative ways to cover that precious real estate on your body. Ear cuffs, ear jackets, hand bracelets, and even fingernail covers caught my eye at the show!
Starbursts and Spikes: Sharp edges and shapes were dominant at most of the booths.  Ear jackets, bracelets, rings, and earrings all contained cutting edge shapes and pointy triangular designs.
Lots of color: The brighter and more exotic the stones- the better.  Again, designers let their imaginations run wild as gemstones, diamonds, and enamels were used to create amazing contrasts with their gold backgrounds.
Collar Necklaces: This style often reminds me of the 90's.  However, when done correctly, it could be the perfect necklace to a specifically cut dress.  An ideal piece can be as delicate as a gold thin wire with tiny details or as complex as a thick vintage choker with a band of diamonds, like this one seen below.
Stay tuned in the weeks to come for a more in-depth discussion on each trend and the pieces found that fit each criteria, along with a feature on a select few designers that are creating amazing gold pieces worth checking out!
This post was brought to you in collaboration with LoveGold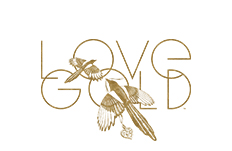 1 Comment
The Goldgirl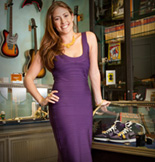 Lauren Kaminsky- aka The Gold Girl is a young entrepreneur in Manhattan. Working in her father's pawnshop is anything but ordinary and each day leads to something new. Passionate about the gold items that come her way, Lauren shares them and her daily excursions with us on this blog.