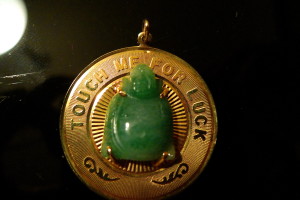 It was once told to me that jade in the shape of an egg is a symbol of good luck.  Whether true or not, this stuck with me and, as a result, when I curated my first collection of gold vintage jewelry to be sold at Beauty & Essex, one of the pieces was an 18kt gold bracelet with jade hanging in an egg shape. It sold within days of the opening.
Reminded of that piece, I recently scouted out other unique items that are believed to represent good luck and are less obvious than the usual four-leaf clover and lucky number 7.  Check out the pictures below for these subtle good-fortune gold jewels.
Jade: the 2nd hardest stone to cut, after a diamond, is a natural gem that is cherished by many cultures.  The gem is typically set in higher carats of gold, like 18 or 22kt. 
An elephant with its tusks facing upwards. During the Great Depression, many people were facing hard times and held onto tokens of good fortune in hopes of  better days ahead- the elephant was one of the more popular.
The Hindu Om: "The mother of all mantras" is thought to bring good luck to its believers. 
The Wishbone: Not necessarily lucky but a reminder of good luck, if wished for!
This post was brought to you in collaboration with LoveGold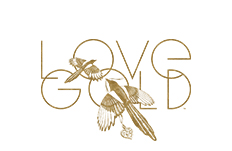 The Goldgirl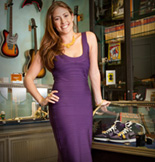 Lauren Kaminsky- aka The Gold Girl is a young entrepreneur in Manhattan. Working in her father's pawnshop is anything but ordinary and each day leads to something new. Passionate about the gold items that come her way, Lauren shares them and her daily excursions with us on this blog.