When working with vintage and antique jewelry, it is a given that a cameo, or a piece with a portrait will come into the mix every so often. I am always fascinated by these works of art, which are typically handmade out of a seashell, coin, or agate, and are then faceted into gold. Most that I have seen are rarely alike, adding to the element of surprise.
By working in the business, I have learned that the typical and most well-known type of cameo is a carving into stone or shell of a lady's portrait that became popular in the late 18th and 19th centuries by Queen Victoria of England. However, carving portraits into materials and showing them off by wearing it within jewelry dates all the way back to ancient Egypt. Besides the upper class commissioning a portrait to be made and worn, faces of soldiers were often carved or engraved. Wearing this jewelry symbolized loyalty and willingness to sacrifice.
Just as we enjoy scanning old photographs looking for a familiar face, I enjoy examining the faces carved into the jewelry that come my way. Throughout the years, I have come to learn that the details within the cameo can help date the actual piece. Specifics, such as the shape of the nose to the style of hair, are indicators of the time and quality of work.
Placing a cameo in gold is a testament to the everlasting value of the precious metal. This is mainly because gold can shoulder the responsibility of a piece that is made with the purpose of being passed down from generation to generation.
This first type of picture is etched into a coin dating back to ancient Greece. This necklace is made by Bulgari and is in 18kt gold with hematite beads. The Italian designer is well known for its use of ancient historical coins in its pieces, which  became very popular in the 1980's.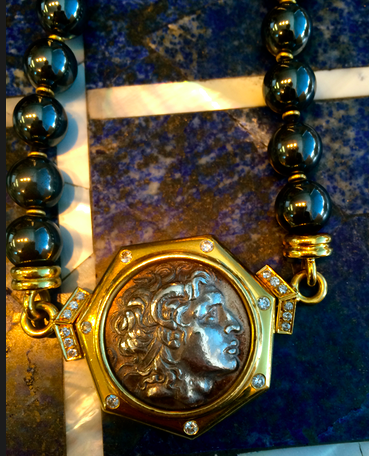 This Indian Head coin is made out of gold and is one of the earliest of its kind (they were produced between 1908-1929, according to http://www.usacoinbook.com/coins/gold-2-50-quarter-eagle/indian-head/).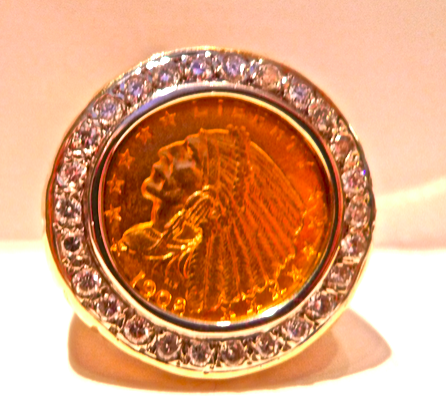 Below is the type of cameo that is the most widely recognized. These are portraits of a Victorian woman and are carved into seashell and secured into 14kt gold.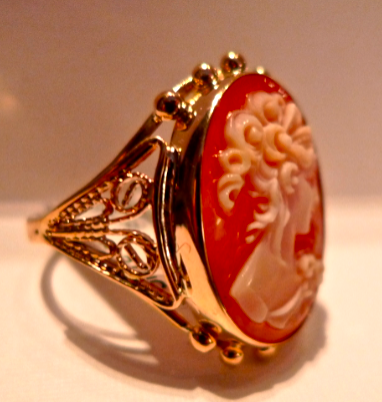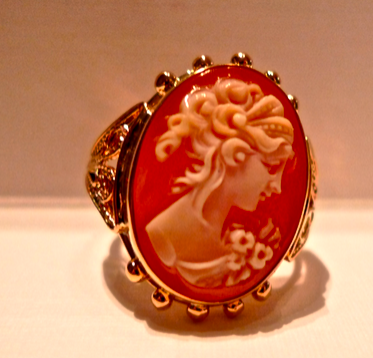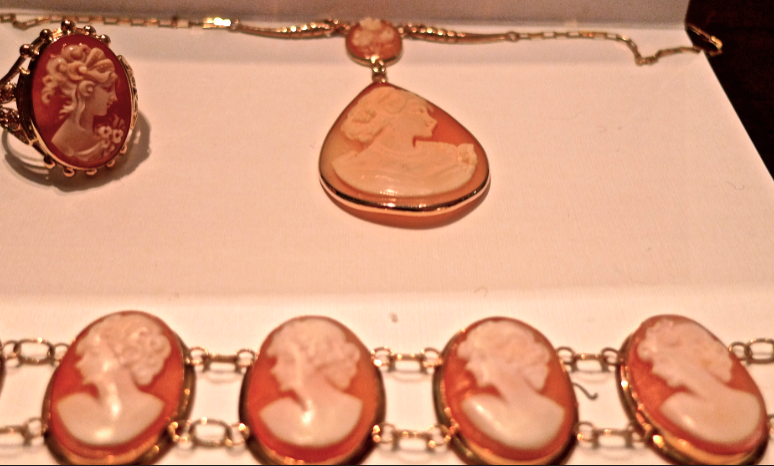 Here are two different Victorian men's rings that feature soldiers from the days of the Roman Empire. The first is a cameo of the soldier Perseus in tiger-eye and 10kt gold. The other is an intaglio of an unknown portrait. An intaglio means the portraits were sketched into the piece, creating a depression in the material. Note that the ring on the left is raised (cameo) versus engraved (intaglio).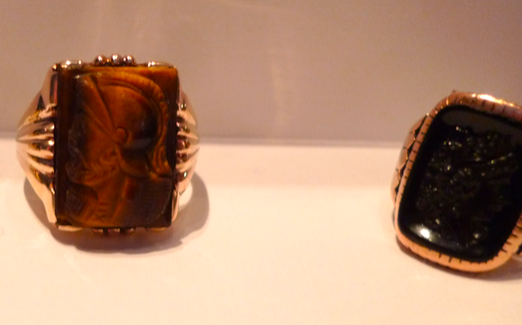 This post was brought to you in collaboration with LoveGold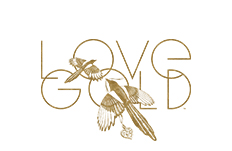 The Goldgirl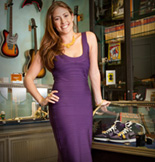 Lauren Kaminsky- aka The Gold Girl is a young entrepreneur in Manhattan. Working in her father's pawnshop is anything but ordinary and each day leads to something new. Passionate about the gold items that come her way, Lauren shares them and her daily excursions with us on this blog.