December has been a very exciting and busy month.  Besides my own engagement, my mother and her boyfriend of 10 years just got married last Sunday.  Since we have vacationed with our families to Cabo before, my mother and her fiancé could not have picked a more ideal location for their very special day.  Here is a run-down of our week in paradise and my must-do list for any future Cabo goer.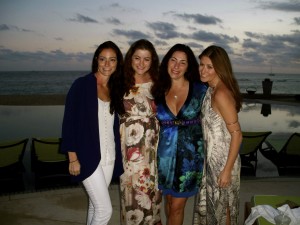 The Rehearsal Dinner:
Built into the side of a cliff and overlooking the Pacific Ocean, The Capella Hotel's Farallon Restaurant features the best of the best in an all-around dining experience.  To complete my boho-desert look for this special night, I decided to try wearing my 14kt-gold bangle bracelets higher up on my arm. Bangles are a great travel jewelry item since they are lightweight and can easily be used to dress up any outfit throughout your stay.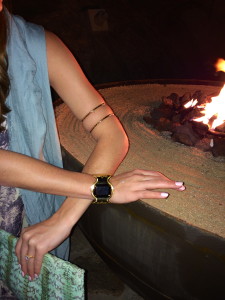 The Wedding:
At The Esperanza Resort, you have the best of both worlds- an infinity pool with breathtaking views that are overlooking pristine white-sandy beaches.  The sun began to set and the mariachi band began to play as my mother came down the candle-lit sand aisle, looking absolutely stunning.  Everything was just perfect.
Joining into our "gold" family style, Cristina, my brother's girlfriend wore these 18kt vintage ornate earrings with her gorgeous pink Alice & Olivia cocktail party dress.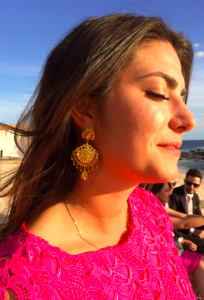 Emily, my now stepsister, had her hands full with gold accessories.
Lunch
After visiting Cabo a number of times, the best way I could describe it to someone who has never been there is if you were to take everything good about LA and move it to a tropical destination.  The nightlife is great, and the food is as fresh as it gets. Flora Farms is must for lunch or brunch on the weekends for those looking to explore the culinary side of Cabo.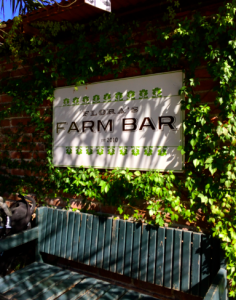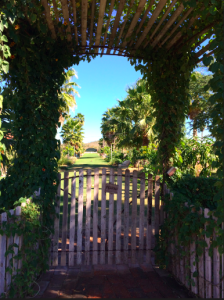 Below is a picture of my mom waiting for her Chicken Burger.  She was wearing a vintage 18kt gold Cartier bracelet, with an all-gold watch.  I love the quote on the placements that say:
 "Dining partners, regardless of gender, social standing, or the years they've live, should be chosen for their ability to eat – and drink! – With theright mixture of abandon and restraint.  They should enjoy food and look upon its preparations and its degustation as one of the human arts."
=M.F.K. Fisher, Serve It Forth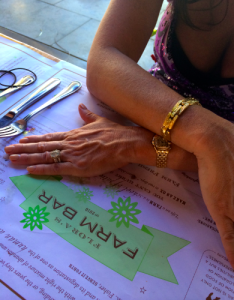 While on site we ventured into Eduardo Sanchez's jewelry store.  The gold jewelry fit in perfectly with the farm- organic & natural looking, while also influenced by Mexican culture.  Eduardo has big plans ahead as his namesake will soon be featured in Barney's NY.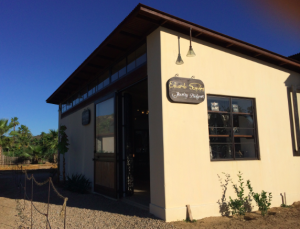 New Years Eve & Day
For New Years Eve my family and I decided to party at The Office, a great Mexican restaurant located right on Medano Beach.  For this night out, I decided to pair my newest ring with some of my favorite rose gold pieces.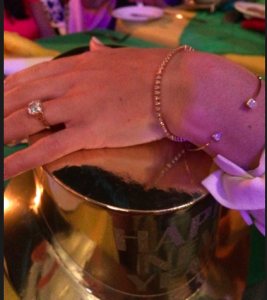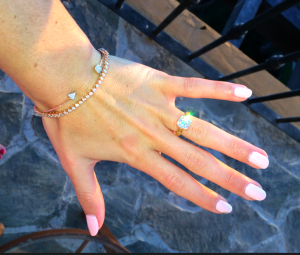 A 14kt rose gold bangle made by Kismet (can be found at Fragments) & vintage bracelet
This post was brought to you in collaboration with LoveGold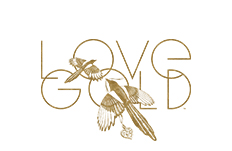 The Goldgirl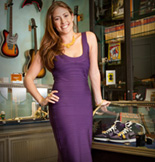 Lauren Kaminsky- aka The Gold Girl is a young entrepreneur in Manhattan. Working in her father's pawnshop is anything but ordinary and each day leads to something new. Passionate about the gold items that come her way, Lauren shares them and her daily excursions with us on this blog.