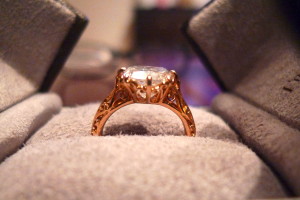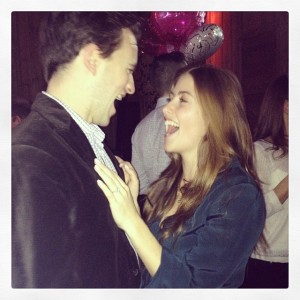 This weekend was full of wonderful memories that will stay with me the rest of my life as my boyfriend proposed to me and we celebrated with our friends and family.  One of the many highlights was slipping the engagement ring on my finger for the first time and feeling the waterfall of emotions that I had never experienced before.  Upon being given the best holiday present that a girl could ask for, I have decided to share my engagement ring experience and offer advice to other "goldgirls" out there that may not be looking for your typical ring.
To start, living in NYC leaves you in good company of some of the best jewelers in the world.  When deciding to go with a vintage or vintage-inspired gold piece, I figured the best strategy was to shop around and see a diverse array of what Manhattan had to offer.  Our first stop was Fred Leighton, we then ventured downtown to the Bowery Jewelry Exchange, and then back uptown to Tiffany.  After hours of shopping and trying on various diamonds and setting, I came to a realization that I had made my decision and that any further viewing would just be a waste of time. Our initial destination was Fred Leighton and nothing compared to the feelings invoked by the first ring I tried on there and although somewhat clichéd, I felt that I was destined to wear it for the rest of my life.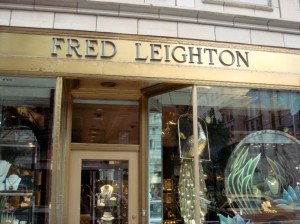 Greg Kwiat, owner of both Kwiat Diamonds and Fred Leighton, is a gold aficionado and fine jewelry collector himself.  His boutique located on Madison Ave in Manhattan, is a romantic store that showcases one of the best fine period jewelry collections in Manhattan.
Having seen his fair share of couples searching for the perfect ring, Greg explained to us the importance of picking a ring that draws you in.   That is the main difference when going with a vintage/vintage-inspired versus a modern design.  You need to pick what catches your eye and draws you in versus putting together a ring based on the current trends and styles available.
In this video by LoveGold, Greg explains how being given a wedding band in gold is an expression of love and value, mainly because for centuries gold has been a most sought after treasure- only to be given to and worn by someone that is special and valuable to the other person.  I couldn't agree more- not only do I love how rose gold looks as the setting to a ring, but the depth of emotions it conveys and symbolism it invokes is also unmatched by other metals.
To close, my main advice in selecting an engagement ring would be to know your style.  Fashion trends come and go, so be loyal to your own style and likes.  Don't be satisfied with what's the current look.  For me, gold and vintage were two necessary pre-requisites and the first ring I tried on happened to be the one that is on my finger now.  Go with your gut and initial instinct and then there is no doubt that you will end up with a ring that you love.
Here are a few other styles that I found while on my hunt for a unique gold ring:
This post was brought to you in collaboration with LoveGold
6 Comments

The Goldgirl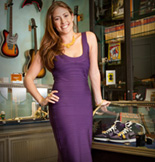 Lauren Kaminsky- aka The Gold Girl is a young entrepreneur in Manhattan. Working in her father's pawnshop is anything but ordinary and each day leads to something new. Passionate about the gold items that come her way, Lauren shares them and her daily excursions with us on this blog.