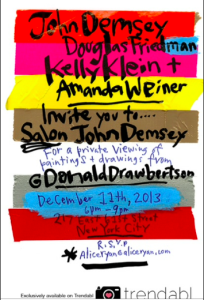 Last Wednesday, John Dempsey co-hosted a salon-style evening at his private residence on the Upper East Side with well-known photographer Douglas Friedman and Harper Bazaar's Amanda Weiner.  The fete was in honor of the fashionably relevant artist Donald Roberston, who has curated his colorful paintings around the townhouse walls.  Creating a wonderland of his artwork, the event brought together art lovers and "techies" alike as all items for sale were only available using Trendabl- an app to purchase the art that was on site simply by scanning the featured bar code.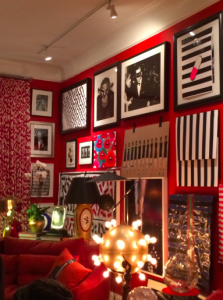 Attendees included Aerin Lauder, Nicky Hilton, Kelly Rutherford, & Lisa Perry.  One attendee in particular had changed into a stunning necklace on her way to another event later that evening.  I am obsessed with the piece and have been on a search for similar jewelry made out of real gold inspired by this piece.
Three designers came to mind- Sydney Evan, Jennifer Meyer, & Lana Jewelry. These designers, in my opinion, have mastered bringing out the best in gold in its most simple looking form.  By using twists in script and, occasionally, just the right amount of diamonds, check out what these designers are saying in gold.
Lana Jewelry- known for her simple yet chic pieces has this necklace with multiple sayings for sale on her website- I love the block script that she chose to use matched with the unique detailed 14kt chain.
I love being able to have the alternative of an "XO" necklace over one that says "Love" and I couldn't resist not posting the "Mommy," its what I call my mother when I feel like being cute- if only I could get her to wear this!
Great as a gift or to "hint" to those you love, remember to use #hintingseason to be entered to win jewelry from LoveGold by signing up on their website www.lovegold.com/hint-competition
This post was brought to you in collaboration with LoveGold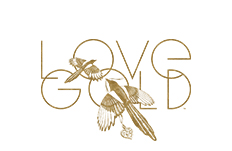 The Goldgirl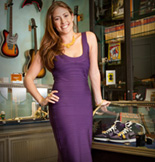 Lauren Kaminsky- aka The Gold Girl is a young entrepreneur in Manhattan. Working in her father's pawnshop is anything but ordinary and each day leads to something new. Passionate about the gold items that come her way, Lauren shares them and her daily excursions with us on this blog.