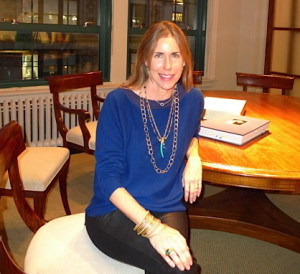 Seeing the expressions and emotions invoked when a designer speaks and describes working with gold is what I continue to look forward to each time I have the opportunity to discuss a newly discovered jewelry line. Everyone that I have spoken to and have profiled fondly recalls an early memory relating to gold and then tells the story of living life with the task of recreating and sharing a similar memory with others.  This is what I loved about Landon Slane- she is aware that her own creations are constantly becoming a part of other people's stories. Just as a gold charm bracelet given to her by her mother at a young age inspired her, Slane disclosed to me that it is "humbling to be a part of people's celebrations and memories by choosing to buy one of my pieces."  As a consumer, it is often lost that your purchase is also very likely a personal and intimate creation for the designer.   I will never forget that after Slane mentioned this.
Inspired by the luster, warmth, and a belief that gold gives off positive energy, Slane's latest works have been made using 18kt gold. The stunning pieces, which I was able to see in-person, all have a beautiful brushed gold finishing that she believes, adds a soft elegance to the line.  Slane also enjoyed working with colored stones that provide her artistic mind "more latitude with gold." I would have to agree, considering the lapis necklace and ring drew me straight over to the table when I first walked in.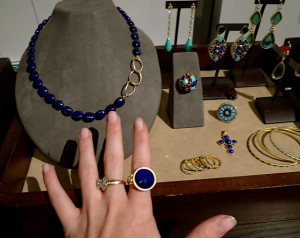 With jewelry being her constant way of expressing her style, Slane finds it important to "create a wardrobe of jewelry" in her lines.  She has created everything from bangles and cuffs to chains and hoops, as she encourages people to "trust their own instincts and step out of their comfort zones."  Slane loves attending trunk shows to demonstrate different ways to wear and layer her pieces, but also seeks those who can pick out something and make it their own.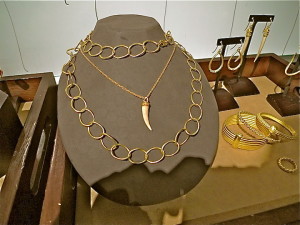 As a very relevant and "it" designer, Landon has been busy creating a special collection that she describes as the kind of project where "the sky is the limit."  With red carpet season quickly approaching, Slane could not disclose too many details regarding the special pieces, except that the project had endless possibilities with an "Indian tribal focus" and a very decadent use of gold.  I could see her excitement, and as we flipped through the book "Beyond Extravagance," I knew that that was the exact way to imagine her upcoming line.  I guess we will have to wait for the red carpet…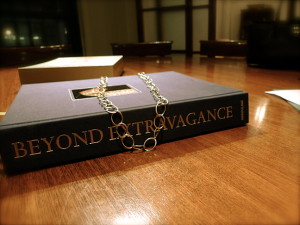 This post was brought to you in collaboration with LoveGold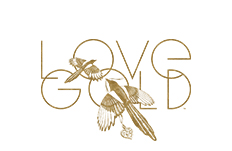 2 Comments
The Goldgirl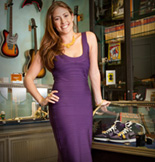 Lauren Kaminsky- aka The Gold Girl is a young entrepreneur in Manhattan. Working in her father's pawnshop is anything but ordinary and each day leads to something new. Passionate about the gold items that come her way, Lauren shares them and her daily excursions with us on this blog.