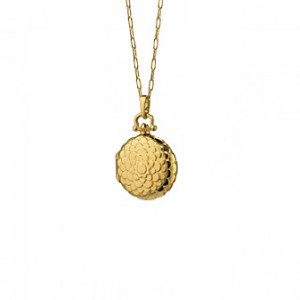 I used to believe lockets were creepy.  As you can imagine, on the vintage jewelry end of it, many lockets have come my way.  However, instead of them being filled with photos of loved ones, they had strangers staring blankly back at me.  I found myself asking questions about these people and dreaming up romanticized scenarios on why their photos in a locket came into one of my 13 vintage jewelry stores.  I had no desire to ever own a locket, knowing that one day a stranger, like myself, could be looking at photos of my loved ones with the same apathetic regard.
Recently, my older sister, who is a mother of two, and has never been a fan of cheesy keepsakes and personal mementos asked me to help her find the perfect gold locket.  Following this task, I have had a new appreciation for the bespoke gold personal keepsakes. After searching and trying to find the ideal piece, not only did we notice a lack of available options in the lower price range for gold lockets, but also that fine-jewelry designer Monica Rich Kosann, has dominated the gold locket market.
Starting her career as a photographer, Kosann clearly understands the importance of personal keepsakes.  Her website states, "a locket holds a precious moment, to be revealed at a time and place of one's choosing."  It was important for my sister and I to find a locket that was discreet, to only appear as a locket to those that were informed, and yet still be beautiful.  Therefore, she decided to go with one from Kosann's collection.
Here are a few others from Monica Rich Kosann and other jewelers that made it into the top of our list.  Keep your loved ones close to your heart with these undercover gold lockets: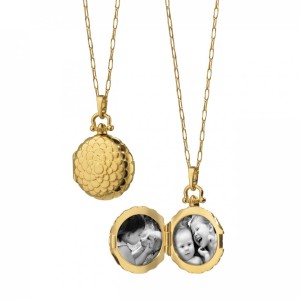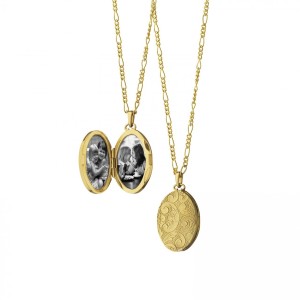 This three lockets are from Monica Rich Kosann.  They are 18kt yellow gold and display beautiful designs on the front of the lockets.  The one to the left is the mini Scalloped Locket, the one on the right is her Signature Oval Locket, and the one below is the Petite Double Sided Oval Quartz Locket.
This post was brought to you in collaboration with LoveGold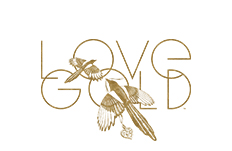 1 Comment
The Goldgirl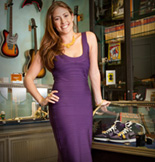 Lauren Kaminsky- aka The Gold Girl is a young entrepreneur in Manhattan. Working in her father's pawnshop is anything but ordinary and each day leads to something new. Passionate about the gold items that come her way, Lauren shares them and her daily excursions with us on this blog.