An afternoon walk to The Metropolitan Museum of Art is a luxury us New Yorkers tend to forget we have.  Therefore, last week I decided to head over for a new exhibition that was in preview, Silla: Korea's Golden Kingdom.
Silla, an ancient state that once occupied the Korean Peninsula and was one of the world's longest run dynasties, has never been on exhibit in the West until now.  The kingdom's art, culture, and golden luxuries are remaining tools that helped researchers connect the influence surrounding cities had on the small state via important trade routes and how the adoption of Buddhism transformed many of Silla's ancient customs.  An example of this is be the importance of gold in the after-life, as opposed to being used as luxury for those currently living.  This is an adopted Buddhist principle.
The initial segment of the exhibit displays tons of gold jewelry found at ancient burial sites of Kings & Queens in Silla's capital city, Gyeongju.  Further into the exhibition are larger scale items that were created after the adoption of the Buddhist religion.  It was stated that "the precious metal became a medium for Buddhist icons and reliquaries," and therefore is the reason why Silla became known as the Golden Kingdom.
These gleaming yellow gold jewels are examples of why we still value and appreciate the precious metal.  Silla, no longer exists today, but its jewelry and techniques used to create it are still applicable and appreciated.  The discovered artifacts revealed techniques of granulation, wire-making, and hammering.  Due to their advancement, beauty, and rare craftsmanship most of these items have been designated Korean National Treasures.
[imagebrowser id=33]
[singlepic id=102 w=320 h=240 float=center]
[singlepic id=103 w=320 h=240 float=center]
[singlepic id=104 w=320 h=240 float=center]
[singlepic id=105 w=320 h=240 float=center]
Here is an example of what was created once Sillas adopted Buddhism:
You can check out more information on the exhibit here
This post was brought to you in collaboration with LoveGold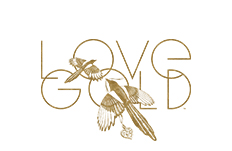 The Goldgirl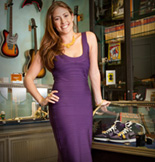 Lauren Kaminsky- aka The Gold Girl is a young entrepreneur in Manhattan. Working in her father's pawnshop is anything but ordinary and each day leads to something new. Passionate about the gold items that come her way, Lauren shares them and her daily excursions with us on this blog.