Brazilian jewelry designer, Luis Morais, has been in the industry since 1998 and his designs are anything but ordinary.  With sharp edges, geometric shapes, and a sleek design, Morais' latest collection takes a turn from his famous beaded bracelets towards a handful of rock'n'roll inspired gold pieces.  Cuff bracelets, link necklaces, and unique rings all comprise a fantastic line made entirely out of 18kt gold.  A gold VIP pass anyone?
Here is my interview with the fine jewelry designer.
Can you remember the first gold piece you fell in love with?
LM: When I was four years old, my mother gave me a signet ring that I loved.
Did this piece influence your line or inspire you in anyway?
LM: Receiving this first piece at such a young age inspired me to want to continue getting more jewelry and gold pieces.
As an artist, what is it about gold that helps you transform and create beautiful jewelry?  
LM: I love yellow gold and how alive the pieces become when using it. Maybe it is the finished result of a piece made in gold that inspires me so much.
How have your designs changed from when you first started designing in 1998 until now?
Yes, my designs have evolved from my first collection, using different materials but with the same concept in mind. I believe you can still see my hand in every single one of them.
I am in love with the gold long square wrap cuff and rings in your 18K collection, specifically the square ring and pyramid. How would you ideally picture someone wearing your pieces?
LM: I always think more is more. On any given day, I am always over accessorized in my own jewelry, layering necklaces as well as beaded and gold bracelets. On other people, I like both the full look and the edited look.
Is there a jewelry trend from the past you wish would make a comeback?
LM: Head pieces, such as tiaras…I think people should use their heads more to
self-adorn
Lastly, if you could own anything made out of gold, what would it be?
LM:  I've probably already created it in my collections…
Luis Morais' collection can be found on Mr. Porter or his own website. 
A few of my favorites from his 18kt gold collection: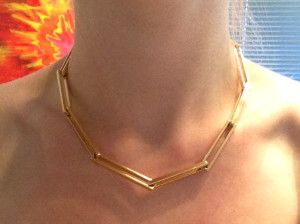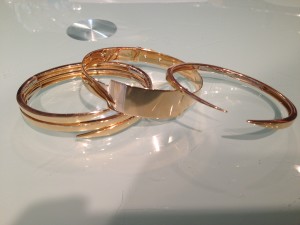 This post was brought to you in collaboration with LoveGold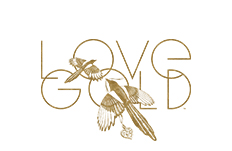 1 Comment
The Goldgirl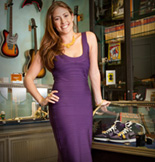 Lauren Kaminsky- aka The Gold Girl is a young entrepreneur in Manhattan. Working in her father's pawnshop is anything but ordinary and each day leads to something new. Passionate about the gold items that come her way, Lauren shares them and her daily excursions with us on this blog.