As a pawnbroker, the daily price of gold has always dictated trends within my family business. Growing up, spot prices were always a hot topic at the dinner table and of course the value of owning gold pieces was instilled in my mind from a very early age (which is why I was never allowed to own the silver Tiffany & Co bracelet all my friends had!).   As a result, it has almost become second-nature for me to check the daily spot price of gold (its up today!) and search for answers on why and how it effects my daily business operations every morning before I begin my day.
After having a conversation with my dad on the current state of our business, he and my head of operations concluded that numbers were down due to a lower gold price.  This was said with a shrug and that was that.   My answer to this was not to shrug it off- as they had, but to grow and focus on our other sector of business: Jewelry sales.
According to the World Gold Council and the Q2 2013 Trends Report by David Lamb, Managing Director, the physical gold jewelry demand has surged this quarter.  Compared to 2012 there has been a 53% increase, namely due to its spot price decline. the return of consumer confidence, and economic growth- to name a few.  The main global powerhouses leading the industry are in China, India, & the United States.  If you did not know, India has the highest demand for gold jewelry- mainly 22kt and higher, China was found to be the world's fastest growing nation in regards to gold demand, and the US follows behind as one of the worlds significant consumer markets.
As a result, I have noticed that customers are much more aware of the price of gold than we think, demand for jewelry on the global scale was the highest in this 2nd Quarter since 2007 (World Gold Council).  We have returned to the time of investing in physical gold jewelry as prices are no longer outrageously high and can save the heavier gold pieces for a consumer that has been waiting for it to be more affordable.  Time to buy again!
You can check out the full report here: http://www.gold.org/investment/research/regular_reports/gold_demand_trends/
The Goldgirl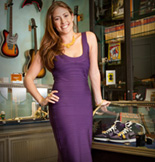 Lauren Kaminsky- aka The Gold Girl is a young entrepreneur in Manhattan. Working in her father's pawnshop is anything but ordinary and each day leads to something new. Passionate about the gold items that come her way, Lauren shares them and her daily excursions with us on this blog.