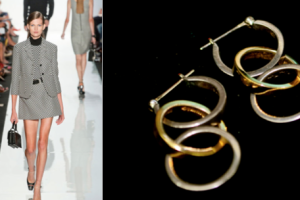 Hot chocolate season is still months away, but in the fashion world we are already putting together our outfits for the spring 2014 season. To keep you up to speed- here are my top spotted trends from NY Fashion Week 2013 and how you can work in some fabulous gold jewelry to supplement these spring styles.
Bib tanks and crop tops were seen all over the runway from Thakoon to Band of Outsiders, this 90's trend is back and if you dare to bare your midriff why not add some distraction with a gold piece.
[singlepic id=78 w=320 h=240 float=left][singlepic id=79 w=320 h=240 float=right]
[singlepic id=80 w=320 h=240 float=center]
These open circle 14kt gold-hammered earrings would look great with the above styles.
Spring leather.  This dress by Belstaff has a color that I know looks great with yellow gold.  I would opt to wear 18kt-22kt gold bangles with this light brown piece. The 2 bangles on one arm and the bracelet on the other are perfect together.
[singlepic id=81 w=320 h=240 float=left][singlepic id=82 w=320 h=240 float=center]
Black and White was a major theme for both Ralph Lauren & Calvin Klein, what better way to work with the monotone color scheme then to incorporate gold.  At the Rachel Zoe show this model's gold necklace stands out perfectly, here is a vintage 18kt chain that could work just as well. [singlepic id=83 w=320 h=240 float=left][singlepic id=84 w=320 h=240 float=center][singlepic id=85 w=320 h=240 float=right][singlepic id=86 w=320 h=240 float=]
This post was brought to you in collaboration with LoveGold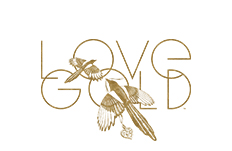 The Goldgirl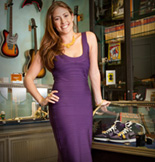 Lauren Kaminsky- aka The Gold Girl is a young entrepreneur in Manhattan. Working in her father's pawnshop is anything but ordinary and each day leads to something new. Passionate about the gold items that come her way, Lauren shares them and her daily excursions with us on this blog.