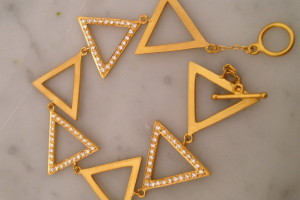 Working at the end of the jewelry life cycle has taught me how to navigate through the jewels that are worth a double-take and those that can be passed over, purely by the feel of the metal.
Therefore, I can confidently say Halleh Jewelry is a keeper. The strikingly fine 18kt yellow gold pieces are delicate yet punctuating in design.   They are pieces that feel so light and airy you almost forget you are wearing art (although the price tag may remind you so).  Over lunch last week, Halleh and I discussed our similar style and how a few of her jewelry pieces fit in perfectly with my preferences.  One bracelet that stuck out most- had flattened but edgy triangle shapes, adorned the right way with diamonds sprinkled in select places.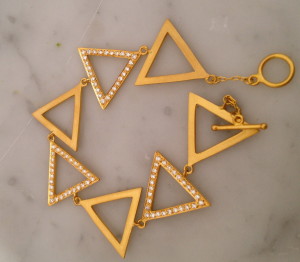 It is no surprise then that the designer, Halleh Amiralai, has haute-couture experience.  Her resume includes a fashion background at Chanel & Temperley London before making her way into the fine jewelry world and creating a line of her own.  She often finds herself skimming her hands over a clothing rack to pinpoint the material that feels best to her and has created a jewelry collection with the same appeal.
Inspired by her exotic vacations and a trip specifically to India, Halleh uses precious stones such as Persian Turquoise in her jewelry to keep it modern, yet timeless.   Here are a few of my top picks: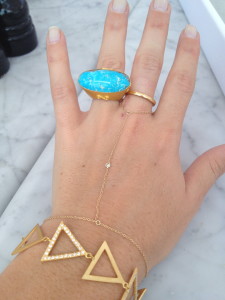 In Greece, this evil eye 18kt-gold bracelet, made by Halleh, was the perfect accessory for the beach and sightseeing. Wearing the evil eye is very common in the Mediterranean, where it is worn to ward off evil spirits.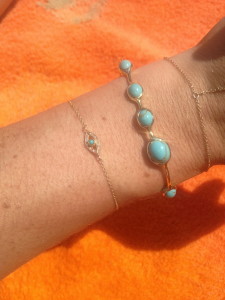 This post was brought to you in collaboration with LoveGold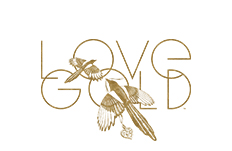 The Goldgirl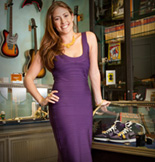 Lauren Kaminsky- aka The Gold Girl is a young entrepreneur in Manhattan. Working in her father's pawnshop is anything but ordinary and each day leads to something new. Passionate about the gold items that come her way, Lauren shares them and her daily excursions with us on this blog.