[singlepic id=49 w=320 h=240 float=left]The Couture Show hosted a press preview at the Midtown Loft & Terrace, which I had attended yesterday.   Among the guests were editors and buyers, who were circulating the room to view the stunning fine jewelry on display by a select few designers.  With the founders and designers of the jewelry brands on site, there was no lack in conversations regarding all the new gold pieces and what their inspirations may have been for one particular piece or set of pieces.
I was able to spend some time with my current favorite designer, Jacquie Aiche, along with a few other designers such as Syna, & Amali Jewelry. All of the showcases were filled with gorgeous designs, the most popular being precious gemstones set in yellow or rose gold
Jacquie's current favorite piece in her collection is a unique statement necklace.  Layered with body chains, Jacquie chose this necklace made out of 14kt rose-gold beads, moonstone, lilac-quartz, and carved bone.  Her collection has a very organic, yet luxurious aesthetic.  I would even compare her jewelry to wearing very natural looking make up- its simple and clean but brings out the best in jewelry (when done right) to make you look and feel good.  A big fan of her finger bracelets, I even purchased a body chain to try out in Greece! [nggallery id=17]
If you have not heard of the brand Syna, I highly suggest you go and check them out.  Dharmesh & Namrata Kothari together have designed a beautiful collection of fine jewelry made out of 18kt gold with ancient art and architecture along with Indian cultural inspirations. Each design that we had discussed has a story and background.  For example- this 18kt gold drop necklace was inspired by the traditional red tilak, the red dot worn by many on their foreheads. [nggallery id=18]
Amali Jewelry designer, Sara, showed off her "textile" collection featuring these stunning gold necklaces that can be worn multiple ways and are the perfect summer outfit additions.  The necklaces with the gemstones as a clasp have diamonds all around beaded inside the necklace. [nggallery d=19]
This post was brought to you in collaboration with LoveGold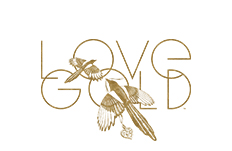 The Goldgirl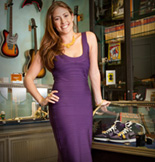 Lauren Kaminsky- aka The Gold Girl is a young entrepreneur in Manhattan. Working in her father's pawnshop is anything but ordinary and each day leads to something new. Passionate about the gold items that come her way, Lauren shares them and her daily excursions with us on this blog.