Pawnbrokers know a thing or two about gold. After all, the precious metal is their bread and butter and when it comes to wearing jewelry, they wouldn't be caught dead in anything else!
At the National Pawnbroker's Association convention this week, my Dad and I were surrounded by fellow collateral loan-brokers as we shared insight, tools, & tips of the trade. While outside of business, I usually find myself with very little in common with my peers (there are not many 25 yr old females in the group). However, this year we were able to connect through our mutual love for gold. The annual get together took place at The Cosmopolitan Hotel in Las Vegas and was a great success!
For the first day I was asked to speak on a panel along with Seth Gold
(truTV's Hardcore Pawn
) and Jordan Taybach-Bank (Beverly Loan Co.) on how to respond to the media along with a few PR tips.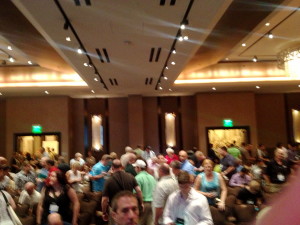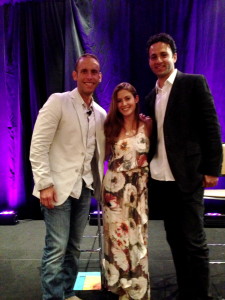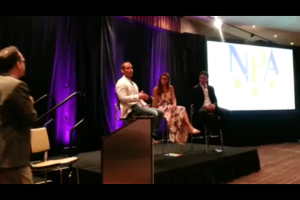 In between the seminars and trade show, we were able to fit in some necessary pool time- this rough jade and gold with diamond vintage ring was the perfect Vegas accessory- go big or go home, right?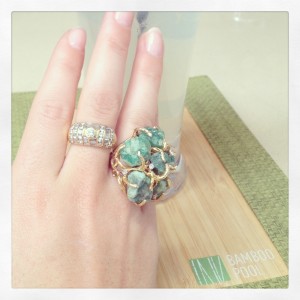 At night we chose our company well- STK dinner with The Gold Family from Hardcore Pawn, along with Jordan and Casey Taybach-Bank
.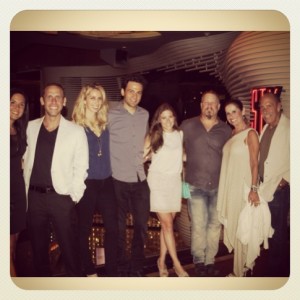 Casey's 14kt gold with diamond star-burst clasp vintage bracelet was absolutely stunning. One thing that is guaranteed at the convention is that you're in good gold jewelry presence.
Her vintage gold watch charm hangs from a diamond bezel-set necklace and features a gold face surrounded by 3 rows of sparkly diamonds.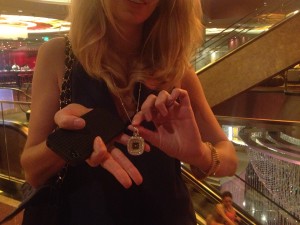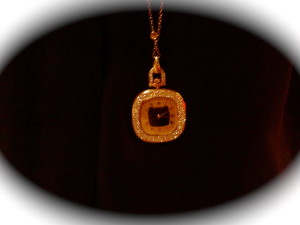 The next day during the Annual Membership breakfast, Dave Edelman, a past president and current board member, showed off his gold jewels. There is no such thing as too little gold jewelry for a man. He states, "the first thing I do when I get home is take off all my jewelry from the day." Here he is wearing his favorite pieces- all with a story as they were brought into his store and used as collateral at one point. His bracelet is custom made with his name on it.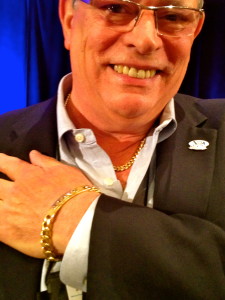 Next at the trade-show I spotted the
Vintage Contessa's
fabulous jewelry collection. Here she is wearing an Hermes bracelet stacked with two Cartier Love bracelets (one yellow gold and the other white gold) and a Gold Bear hammered cuff made out of 14kt.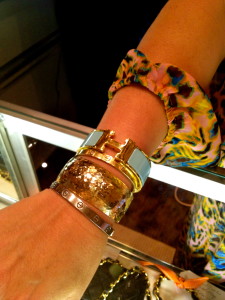 My dream watch: 18kt Rose Gold Presidential Rolex 🙂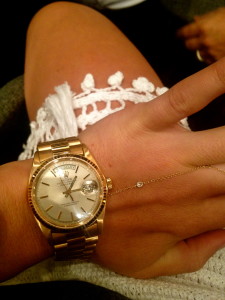 This post was brought to you in collaboration with
LoveGold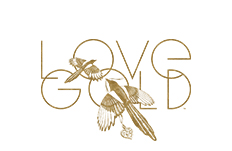 The Goldgirl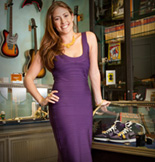 Lauren Kaminsky- aka The Gold Girl is a young entrepreneur in Manhattan. Working in her father's pawnshop is anything but ordinary and each day leads to something new. Passionate about the gold items that come her way, Lauren shares them and her daily excursions with us on this blog.