As I sift through the jewelry that comes in, engraved pieces always seem to stand out to me. I often find myself dreaming up a scenario of how the messages came about; was it inscribed before and given as a surprise? Or was it well thought out and added on after years of wearing? A wedding band made in gold may survive years and years, yet you can never tell how old it really is. Engravings with years are the most helpful giveaways in determining the age of a ring.  Inscribed messages are bespoke and bring intimacy to an ordinary item, especially to the gold wedding band.
A gold wedding band is an item of jewelry that may have been worn for over 50+ years & symbolizes a timeless union of love and commitment.  Whether engraved or not, no other piece of jewelry evokes so much emotion than the gold wedding band.  Besides its typical association with everlasting love, wedding bands are also familiar in nature and one can often track many generations of marriages by tracing the history of a particular ring.  While discussing this topic with my friends, and being the only one with divorced parents, I was very curious to know what stuck out most to them about their parents' wedding bands.  Not surprisingly, all of them responded primarily with the color, which was either yellow or white gold, and how they immediately noticed when one parent would not wear his or hers.  A few other friends responded with how they view their parents' wedding bands; Rachel stated how it reflects their "loyalty" to one another, while Stephanie translates her mother's eternity band to symbolize their "commitment lapping around until infinity."
One tip that was shared with me is that if you are stacking your rings, always make sure your original wedding band is on the bottom- keeping it closer to your heart.
This 14kt gold wedding band reads: 9/26/1900 and says "Our Promise"
[singlepic id=32 w=420 h=340 float=][singlepic id=33 w=420 h=340 float=]
[singlepic id=34 w=420 h=340 mode=web20 float=]
This 18kt vintage piece includes bezel set diamonds all around [singlepic id=35 w=420 h=340 float=]
 This post was brought to you in collaboration with LoveGold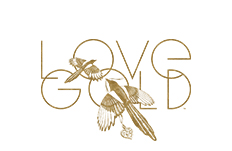 The Goldgirl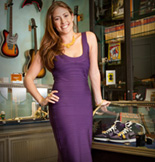 Lauren Kaminsky- aka The Gold Girl is a young entrepreneur in Manhattan. Working in her father's pawnshop is anything but ordinary and each day leads to something new. Passionate about the gold items that come her way, Lauren shares them and her daily excursions with us on this blog.