Running a business is easy. Said no one ever.  However, running a family business does have its perks and one being that I can always count on my dad to be consistent.  Security is and always has been on his mind, especially when it comes to designing our newest stores.  While I may like to pick out the nicest showcases to display the jewelry, his number one priority is making our stores a fortress and while it may not always look pretty (bullet proof windows, comee on)- that is and always will be his been his schtick- it is the right thing to do when you are in this type of business. Not the pawn business as stereotyped as one with dangerous locations, but the jewelry business.
Right after news broke out of the theft at Tiffany & Co I was contacted by the Nytimes to discuss this topic.  I was able to view the security tape from the store where the incident occurred and immediately provide my feedback, however, like most instances involving our output on the business my father and I disagreed on who was to blame.  The situation was this:  employee showed more than one item (broken policy #1) and then turns her back (#2) only to find a customer that has grabbed and dashed past an aloof security guard standing right by the door (#3).  My dad believes the security guard would totally be at fault- his job is to be guarding both the jewelry and personnel yet failed at his number one task, very true but I believe the employee was in the wrong.  As part of our new hire sales training one thing I make sure to tell our staff over and over again are to be alert and never do those two things.  What do you think?
and by the way- we have changed our "security codes" thanks to one very chatty employee…
Check out the article here:
http://www.nytimes.com/2013/06/15/nyregion/after-98000-theft-at-tiffany-security-suggestions-from-a-pawnshop.html?smid=pl-share
1 Comment
The Goldgirl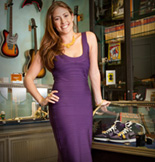 Lauren Kaminsky- aka The Gold Girl is a young entrepreneur in Manhattan. Working in her father's pawnshop is anything but ordinary and each day leads to something new. Passionate about the gold items that come her way, Lauren shares them and her daily excursions with us on this blog.