Last week's Couture for jewelry show in Las Vegas was one haute event, showcasing the world's finest jewelry to a confluence of accomplished artistic designers and suave jewelry aficionados.  The exhibitors' displays were luxurious and enchanting.
As buyers sorted out the best-of-the-best amongst the exhibitors, LoveGold (a brand of The World Gold Council) made its ceremonious debut perched on a large stage overlooking the entire scene.  The sponsor's presence was palpable from anywhere on the floor, with attendees buzzing about the sleek "genius bar" and the photo booth with a real gold bar for a prop. With LoveGold as the pervasive backdrop and the words "economic downturn" soooo two years ago, gold dominated the conversation amongst buyers.  Store-owners seemed to be increasingly focused on buying yellow gold jewelry, betting on a big comeback for the flagship color.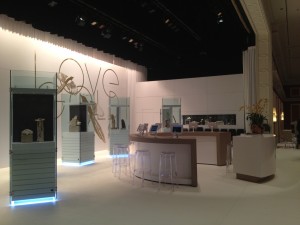 Trends in Gold Jewelry from Couture 2013:
Gold as part of your body: Gold is a natural element and is being used by designers to show its best state, whether smooth, hammered, or delicate. This year's show was all about movement.  Many designers showed off their talents for making gold jewelry that is both easy to touch and enjoyable to wear.  [imagebrowser id=8]
Nature Inspired pieces: Feathers, teeth, claws, bones from the earth and globes wrapped in gold were heavily exhibited throughout the show.  These naturalistic features portrayed the artistry and talent that jewelry designers must have used to work with such unique artifacts in different ways. [imagebrowser id=9]
Gold with an edge: Call it The Game of Thrones collection or the in –case-of-emergency-back-up plan but daggers, arrows, and cuffs made out of gold were all the rage at Couture 2013. The designers held nothing back from their imaginations when it came to creating these magnificent jewels. [imagebrowser id=10]
This was post was brought to in collaboration with LoveGold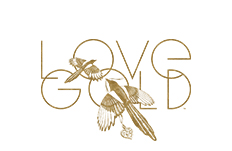 2 Comments
The Goldgirl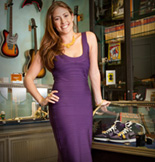 Lauren Kaminsky- aka The Gold Girl is a young entrepreneur in Manhattan. Working in her father's pawnshop is anything but ordinary and each day leads to something new. Passionate about the gold items that come her way, Lauren shares them and her daily excursions with us on this blog.