A few days ago I received a very sweet email from a college senior looking for items she could pawn in order to pay for her college application fees.  While it is typical that I would receive an email asking about the loan process and what kind of item someone could bring in for a loan, I would usually just forward it to one of our department managers, however this specific situation was one I just couldn't pass on to somebody else.  I loved that she was making the effort.
I remembered when I was applying for colleges, which was a difficult time for me- the peak of mom & dad's legal battles in divorce and my dad penny-picked at every dollar I had asked for.  $60 application fees for college applications were an expense he just didn't understand.  I ended up narrowing it down, applying, and getting into my college of choice but it definitely was not easy without the full-on assistance and encouragement from my parents.
Anyway- she came in a few hours later- even though she lived a full hour away, and was just old enough to make a pawn transaction. She was eager to learn about the pawn process and diligent in making sure she would cover the money borrowed by taking up a new job with a paycheck coming-in in 2 weeks.  I assured her we could work something out and how proud I was of her taking the initiative to make ends meet on her own rather than just give up, get a job, and put college on hold.
The Goldgirl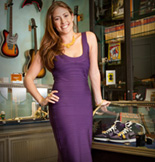 Lauren Kaminsky- aka The Gold Girl is a young entrepreneur in Manhattan. Working in her father's pawnshop is anything but ordinary and each day leads to something new. Passionate about the gold items that come her way, Lauren shares them and her daily excursions with us on this blog.