Recently, I was told about a school for those looking to go into the car dealership business, mainly those that are children of owners of the business.
When will there be a PHD in OP?  PH-Daddy Owns a Pawnshop school? Can you imagine that crowd?
The Goldgirl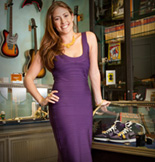 Lauren Kaminsky- aka The Gold Girl is a young entrepreneur in Manhattan. Working in her father's pawnshop is anything but ordinary and each day leads to something new. Passionate about the gold items that come her way, Lauren shares them and her daily excursions with us on this blog.