Fitzgerald's famous novel is making a major comeback in theaters this week and will be the first film at the Cannes Film Festival.  As a result, I probably do not need to be the first to tell you that Great Gatsby style is everywhere.
F. Scott Fitzgerald's classic novel created a phenomenon that decades later has influenced the likes of major current design houses including Tiffany & Co and Brooks Brothers.  While Gatsby would typically be synonymous with the Gold Coast that it takes place in, yellow gold is anything but Jazz age style. Here are a few of my "yellow gold" Gatsby party approved pieces that have been influenced by the times' geometric shapes and flapper flair.
Be sure to check back to Lovegold.com/cannes2013 for a live stream of The Ultimate Gold Fashion Show directly from the Cannes Film Festival events.
This 22kt gold with pearl necklace can easily double as a roaring 20's headpiece, which were iconic fashion pieces of the time.
Jay Gatsby's style could be defined as decadent and over the top, but what it really should be known as is timeless.

Pearls layered and draped together were critical to any flapper's style. However, add some gold accents or find a piece with gold spacing's and create a look Zelda Fitzgerald would even envy.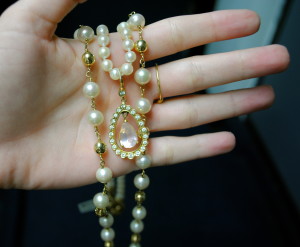 This post was brought to you in collaboration with LoveGold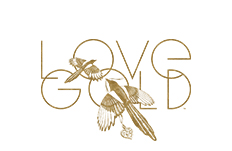 1 Comment
The Goldgirl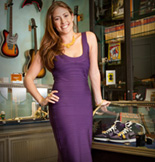 Lauren Kaminsky- aka The Gold Girl is a young entrepreneur in Manhattan. Working in her father's pawnshop is anything but ordinary and each day leads to something new. Passionate about the gold items that come her way, Lauren shares them and her daily excursions with us on this blog.