Taking place from the beginning of the 1960's up to its current season in 1968, Emmy Award winner Mad Men has been spot on with the decade's evolving trends.
While the 1960's had two very distinct styles occurring at the same time, the show has mainly focused on the elegant well-polished ladies, versus the bead-wearing experimental hippies. Both of these trends were very "fashion-forward" for the times, as the season progresses hemlines are getting shorter and jewelry more "showy."
The pictured 14kt tri-circular hammered gold earrings would go great with the stunning, and always chic Megan Draper's cocktail attire.
I also think the lightweight 14kt gold pear shaped earrings are a great statement piece that would have been a main part of Megan's collection at the time
Joan's executive style almost always includes a fabulous pin. This 14kt gold starburst with a diamond in the center would surely fit perfectly with Joan's form-fitting power suits.
Pearls were always a necessary part of the 1960's elegant woman's jewelry collection. These 14kt gold and pearl baroque style earrings are just as enigmatic as Don's new p/t lover.
This 14kt Tiffany & Co vintage pearl necklace resembles the seen timeless piece seen on Betty Draper.
This post was brought to you in collaboration with LoveGold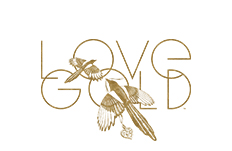 The Goldgirl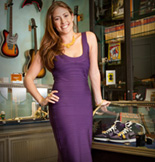 Lauren Kaminsky- aka The Gold Girl is a young entrepreneur in Manhattan. Working in her father's pawnshop is anything but ordinary and each day leads to something new. Passionate about the gold items that come her way, Lauren shares them and her daily excursions with us on this blog.