As a Boston University graduate I feel compelled to share how saddened I have been by the Marathon Monday event.  Nothing can compare to the happiness that single day of the year would bring to the entire city.   School's were closed & day's off were given just so that everyone could put everything they have aside on that day in order to celebrate and support those running in the event.  Now it will forever be different.
Next Thursday I will be hosting an event for any Boston Alumnus and their friends to attend at Lilium in NYC.  Please come out to support this cause- tickets will be $20 and all proceeds will be donated to the ONE Fund, which has already raised $7 million to assist those in need.  Thank you in advance.
The Goldgirl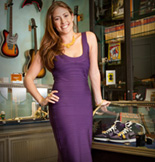 Lauren Kaminsky- aka The Gold Girl is a young entrepreneur in Manhattan. Working in her father's pawnshop is anything but ordinary and each day leads to something new. Passionate about the gold items that come her way, Lauren shares them and her daily excursions with us on this blog.