The 1950's, post-war America, brought about a renaissance in jewelry. Artistic designs and creativity flourished, while economic and industrial growth aided the spending needs for those looking to indulge. Gold was the star of the movement and the modern day fashionistas sought fresh new designs to adorn everyday outfits.
Pioneered by Hollywood's golden age icons, Elizabeth Taylor & Marilyn Monroe, jewelry had started to be worn more frequently and appear edgier and striking than its retro predecessor.  Possibly inspired by the fascination of space exploration, abstract and obscure items in varied shapes and sizes were worn as jewels, dangling from the necks, ears, and blazers of the leading ladies of the time.
14kt gold necklace with 14kt pin with pearls and sapphires
The organic shapes and detailed surfaces are based on surrealism- a big art trend for the time period, along with animal jewelry ranging from panthers to snakes and fish and dogs.
14kt Rose gold with ruby bracelets were also gaining popularity and are iconic pieces to this specific era.

The Goldgirl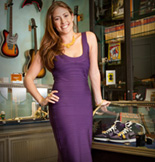 Lauren Kaminsky- aka The Gold Girl is a young entrepreneur in Manhattan. Working in her father's pawnshop is anything but ordinary and each day leads to something new. Passionate about the gold items that come her way, Lauren shares them and her daily excursions with us on this blog.