One man's trash is another man's treasure is how the American picker's dream goes.  However, when we're talking gold we're talking a lot more treasure than we are trash. 
Besides the obvious aesthetic appeal, gold has been the ultimate benchmark of value across the globe and has proven to display everlasting value amongst cultures, countries, and even currencies.   As an expert in the field, FOX News asked me to provide a few tips on two of their segments that aired live this past week.
Here is a short recap, and in case you missed it- video clip will soon follow!
My tips for when searching for a valuable item in your home:  
 Inspect your item(s)
◊ Get to know every single one of your pieces, keep an eye out for hallmarks or any indications of a name brand, year, and/or karat type.
Go for the Gold!
◊ Karat type is very important when indicating the value of an item
◊ The higher the gold karat the more valuable the item (your nearest jeweler will be more than happy to test it and let you know what it is worth with no commitment to sell or pawn the item)
Keep certificates and/or appraisals nearby
◊ If your jewelry box is as full as mine, it's a good idea to keep all of your certificates and appraisal papers in the same place
◊ Keep in mind the value of an appraisal will rarely be what you receive for the item in the 2nd hand market
Look for prized possessions around your house!
◊  Passed down heirlooms such as fine home décor are common items that include gold trimmings like the Lalique vase shown below with 18kt gold
◊  Also, beautifully crafted compact cases and handbags were made entirely out of gold and were very common in the 1950's.  These treasures  are usually passed down from generation to generation and have increased exponentially in value.
This post was brought to you in collaboration with LoveGold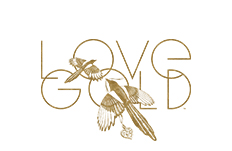 The Goldgirl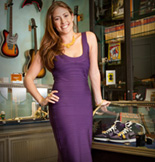 Lauren Kaminsky- aka The Gold Girl is a young entrepreneur in Manhattan. Working in her father's pawnshop is anything but ordinary and each day leads to something new. Passionate about the gold items that come her way, Lauren shares them and her daily excursions with us on this blog.