When I had told my friends that I was going to a burlesque show, they were at a loss for words.  Unsure of how to explain what I was getting myself into I decided to go ahead and give it a go and report back.  My initial thoughts on what to expect did not even begin or prepare me for the stir of emotion, the build up, and the art of this burlesque show.  Dita Von Teese, an alumnus of Crazy Horse, the Parisian establishment and Ivy-League of all things burlesque, has clearly graduated Magna Cum Laude and is determined to bring this art to American culture in her own way.
Like a puppeteer controlling all aspects of a show, Dita Von Teese could not have portrayed a better Geppetto.  Her NYC burlesque show was my first, and can only be described as a fantastic underworld.  Everything from the eclectic audience to the dance sequences and cliché emcee showcased an interesting world that seemed to have been strung together by the one and only Dita.  As the comical emcee of the event, MC Murray Hill had stated, her show is the best invention since "Ambien and wine" and she would be the "Tony Soprano" of burlesque.  I knew I was in for a treat from the very start.
I would argue that it is not an easy feat to find a show that can encapsulate all walks of NYC life in its audience.  Just by the looks of those waiting eagerly to get inside- Dita had succeeded in rounding up the troops.  Lined up that Thursday night was an esoteric mix of retro admirers with 1940's hairstyles and outfits to match, goth's, gays, burlesque first timers, and even cuddled up couples looking to shake up a typical date night. Once inside, this diverse crowd immediately turned into a melting pot and provided for a fun and rowdy audience.
As a spectator un-aroused by Dita's strip-tease performance (nipple tassels are not particularly my thing), I was able to focus my attention on other intricacies within her routines.  I searched the details of the backdrops, the ornate costumes with clever detachments, and the accessories she had used as props.
One scene specifically that I had loved was when Dita appeared to blossom out of a compact case wearing pointe ballet slippers with gold accessories at her side. A scene almost right of the Nutcracker where Pearls played a large part as well as the passing back and forth of a treasured Van Cleef gold lipstick and mirror that any vintage jewelry collector would just die over.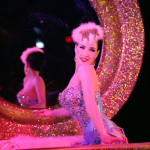 This post was brought to you in collaboration with LoveGold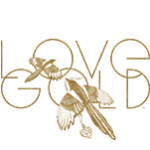 1 Comment
The Goldgirl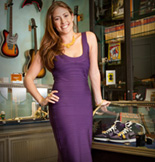 Lauren Kaminsky- aka The Gold Girl is a young entrepreneur in Manhattan. Working in her father's pawnshop is anything but ordinary and each day leads to something new. Passionate about the gold items that come her way, Lauren shares them and her daily excursions with us on this blog.