Whether it's Coachella, Ultra, or SXSW dressing for a music festival will always be a tricky feat to conquer.  One common and often faced dilemma is the need to look stylish and cute, yet comfortable and versatile in the transition from day to night events.  We decided to hit the streets and the most sought after parties to seek out those who mastered the "festival" looks with gold jewelry.
SXSW: Gold Culture and Style Tips
Layer Your Jewels
Simple and comfortable are the way to go, but don't forget to add some finishing touches that won't prevent you from staying out all day and night- gold necklaces!  Pile them on and you have a casual cool outfit that can take you from event to event while looking effortlessly chic like this fashionista to the right.
Shop Local
 SXSW is all about grassroots and supporting local artisans.  Ellen, a native New Yorker who currently resides in Austin, suggests visiting the local jewelry stores while in town- according to her "they have some great finds!" and is where she had found her stylish gold earrings!
Spark Interest! 
Festivals are an amazing networking opportunity, you never know who you are going to meet and what you may have in common.
When going through how to accessorize her festival attire, Liz, from Wisconsin, prefers to wear special mementos.  One of her favorites is this gold
watch, which was passed down to her by her Great-Grandpa, a piece her Great-Grandma used to wear.  Liz "loves when people make jewelry their own," which is why she mixes the old watch with newer bangles and bracelets.
This post was brought to you in collaboration with LoveGold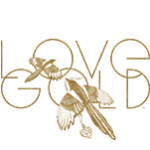 2 Comments
The Goldgirl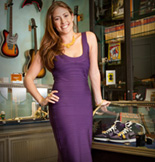 Lauren Kaminsky- aka The Gold Girl is a young entrepreneur in Manhattan. Working in her father's pawnshop is anything but ordinary and each day leads to something new. Passionate about the gold items that come her way, Lauren shares them and her daily excursions with us on this blog.