Whether you're sporting a cameo, birthstone, or even engagement ring these circular baubles give an outsider a sneak peek to the real you.  Into vintage? Born in July? Married? There is a ton you can learn about a person based on the hand centerpieces he or she is wearing.
My advice? Keep it simple and not overly busy with these "finger-tips" to follow:
Match your jewelry: Rings on each hand should correspond with the bracelets you are wearing, especially when it comes to gold color and karat. 18kt – 22kt gold have a rich yellow color that often doesn't work well with lower karat jewelry.  It is a good idea to also keep it consistent and invest in a small 18kt or 22kt piece (Tiffany Ring below), if you only have 10kt or 14kt ones.
Serious on top = Party everywhere else. Keep your outfit simple and glitz it up by wearing more than one ring on each hand.  Different shapes and sizes are key and look great when adding a little something to a simple outfit.  I like to surround a bigger ring with smaller ones like the moonstone rings shown below.
Invest in a buzz-worthy conversation piece. What's better than making a purchase with a back-story? I love entering a cocktail party with something to talk about and a ring or two with meaning is the perfect accessory.
This post was brought to you in collaboration with LoveGold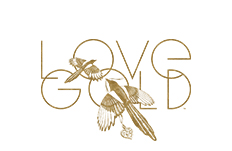 The Goldgirl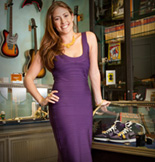 Lauren Kaminsky- aka The Gold Girl is a young entrepreneur in Manhattan. Working in her father's pawnshop is anything but ordinary and each day leads to something new. Passionate about the gold items that come her way, Lauren shares them and her daily excursions with us on this blog.