In Venice, California down the block from Kamofie & Co is L. Frank, where venerable designer Liseanne Frankfurt houses her own designs of hand-made and one-of-a-kind fine jewelry.  Liseanne walked me through her store, spoke of her latest designs, and touched on a piece she could never own, but had inspired her to create something of equal beauty.
Once inside L. Frank, one cannot help but notice the simple aesthetics of the store. Natural accents, such as the dual-rounded cherry wood showcases and green moss displays, are the key focus and act as the perfect subtle jewelry boxes to house delicate yet exquisite pieces.  As we entered, I immediately gravitated towards an 18kt gold necklace that resembled liquid-gold circles weaved together.  The necklace was so light and airy, yet rich in gold color, substance, and had a matte finish.  Liseanne explained how this piece was meant to be worn everyday and she even keeps hers on while swimming.   She gets great pleasure out of hearing that beautiful sound of water touching the precious metal circles together- a sound specific only to gold pieces made in this hammered gold-chain fashion.
Frankfurt's love for gold and the jewelry she creates with it is instantaneously apparent.  She often looks to her travels, books, and nature for new designs and then works with a third-generation goldsmith to create the ideal piece.  When asked why she prefers to work with gold, she responded immediately, "Why not gold? I can not think of anything I would rather work in that is so beautiful and luminous."  Everything about 18kt gold- its softness, color, and how it looks on the skin, are attributes that bring her designs to life.
Designers of all sorts rely on the outside world for inspiration.  On one of her travels through Paris, Frankfurt came across a piece that she found to be truly breathtaking.  This was a choker on display as part of a Cartier exhibit and was worn by the late Mrs. Cornelius Vanderbilt.  She knew it could never be hers, but envisioned designing a piece that would resemble the decadence in this piece while maintaining her own unique style.  The result? A beautiful pair of unique 18-karat gold drop pearl earrings with her signature circular design hanging from the post.
Liseanne takes on jewelry design as I have imagined Hemingway in creating his next novel through meticulous observation of one's surroundings to create something beautiful.
This article has been created by ByGoldGirl in collaboration with LoveGold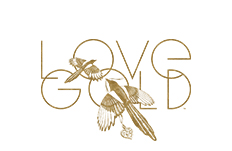 The Goldgirl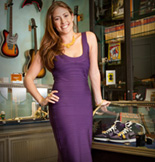 Lauren Kaminsky- aka The Gold Girl is a young entrepreneur in Manhattan. Working in her father's pawnshop is anything but ordinary and each day leads to something new. Passionate about the gold items that come her way, Lauren shares them and her daily excursions with us on this blog.