Take a look at this pin. The owner claims it is from the 1940's and is "very very old."
While it definitely dates back to that time period- it is very important that when looking to buy such an item to always take a close look at every detail, especially the diamonds. Diamonds, while short of wear and tear, can tell a great story by how they are cut.
Here we have a mixture of both modern and old-mine cuts totaling about 9 carats. This means that at one point during the piece's lifetime the owner decided to upgrade the diamonds to add more brilliance, while maintaining its vintage aesthetic in leaving some old-mine cuts on the bottom portion. The piece may indeed be from the 1940's but was not the same as a whole.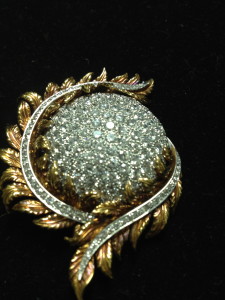 1 Comment
The Goldgirl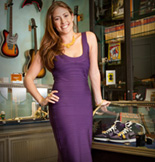 Lauren Kaminsky- aka The Gold Girl is a young entrepreneur in Manhattan. Working in her father's pawnshop is anything but ordinary and each day leads to something new. Passionate about the gold items that come her way, Lauren shares them and her daily excursions with us on this blog.