Down past Melrose and right off of Robertson is another gem of a destination, Platt Boutique Jewelry.  Larry Platt, 3rd generation jewelry store-owner from Chicago, has built up quite a collection of rare pieces.  Both the store and collection has an old-school aura that is equipped with enough jewels and gems to satisfy a curious mind and wandering eye for hours.
Inside you will discover a few of Platt's most treasured pieces- a choker inscribed June 25th, 1868, a 14kt gold Victorian bracelet with black enamel detail, and even a gold poison ring that may have left the fate of a fellow diner in the hands of the wearer.  The 18kt gold poison ring (picture not available)- an item that fascinates Platt, has a small component that was used to store poison likely to be poured into a glass of wine in 19th century Europe.  The unique ring Platt had shown even featured rams on each side.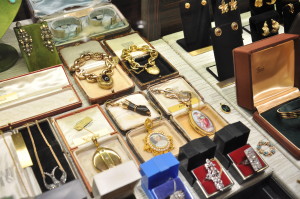 True to form Platt believes in the importance of "dabbling in everything." Yet if he had to choose one- his favorite era would be Art Deco (he loves it so much he even named his dog after it). Platt's belief in a little bit of everything is proven evident by his showcase display which serves as a history textbook of sorts, in which gems and trinkets tell stories of style, royalty, and elegance throughout the centuries.
 When asked what advice he would have for a young collector, Platt says, "to go with your gut and buy what speaks to you." He also enjoys the element of surprise when doing research on a hallmark displayed on a recent purchase.  His reasoning behind the high demand of gold jewelry is that unlike any other precious metal, gold represents warmth and a spectrum of colors ranging from rose to white, which indicate the vast diversity of experiences and styles amongst possessors of the metal.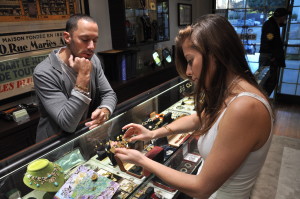 Vintage jewelry and gold comes with such a fascinating backstory that I can relate to Platt's excitement of uncovering the piece to a missing puzzle each and every day while at work.   Stay tuned for more documented adventures with LoveGold & ByGoldGirl as we explored jewelry pre-Golden Globes in Venice Beach, CA.  
2 Comments
The Goldgirl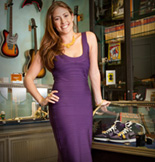 Lauren Kaminsky- aka The Gold Girl is a young entrepreneur in Manhattan. Working in her father's pawnshop is anything but ordinary and each day leads to something new. Passionate about the gold items that come her way, Lauren shares them and her daily excursions with us on this blog.