Welcome to Neil Lane, a Beverly Hills institution whose namesake is synonymous with fine vintage jewelry adorned by Hollywood's A-Listers (Angelina Jolie, Madonna and Charlize Theron, to name a few). I had the pleasure of dining with Neil at the LoveGold Golden Globe Luncheon before going to visit his store with the LoveGold team. While there we caught up on his past, current inspirations and a rare gold piece he is longing to acquire.
All collectors and store owners rely heavily on their gut when finding a true vintage piece. It was one such experience that jumpstarted Neil's love affair with gold. At just 16-years-old, he moved to Paris to pursue his passion for jewelry. While there, he spent a modest $600 for his first vintage gold ring, the fascination of which inspired him to become further interested in filigree and Edwardian craftsmanship. This became the foundation for becoming one of the greatest collectors and designers of our time.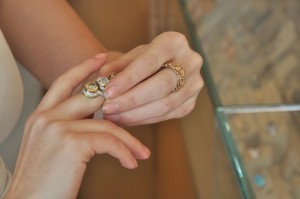 Upon meeting Lane, his intimate connection with his gold jewelry becomes immediately apparent. He suggests that the fundamental undertone to collecting is to choose pieces that draw you in and stir emotion. Neil says it's critical to find a gold piece that is "worthy of love and passing down," because it will carry an "intrinsic sparkle" to which men and women alike gravitate. "It's magical," says Lane. Before long, it becomes clear that it is in fact Lane's unique clarity with this emotion that fuels his one-of-kind taste.
As you exit Lane's slice of heaven and history, your mind wanders in amazement between the stories, the knowledge, the emotions and the jewelry. Any would be noteworthy on its own, yet Lane weaves them all together to form an eye and, in turn, a collection for the ages.
To view the full version of this interview go to Lauren's Huffington Post Blog Page & stay tuned for our next fascinating Los Angeles Jewelry Collector- Larry Platt.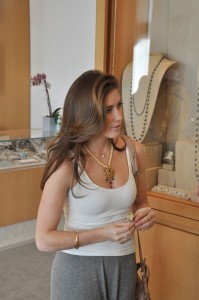 1 Comment
The Goldgirl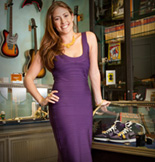 Lauren Kaminsky- aka The Gold Girl is a young entrepreneur in Manhattan. Working in her father's pawnshop is anything but ordinary and each day leads to something new. Passionate about the gold items that come her way, Lauren shares them and her daily excursions with us on this blog.