Posted on the World Gold Council's webpage.
I found this to be a very interesting proposal. Every country is backed by a certain amount of gold in order to withhold the value of its currency- just like people, countries have additional liquid assets besides currency.  The belief that if the Eurozone were to initiate gold-backed bonds and loans based on their precious metal ownership is one that interests me because it resembles what we do on a daily basis- collateral loans.  These loans would not harm each individual countries net-worth but simply would use that cash on hand to re-bound and re-build each nation.  Love it!
The Goldgirl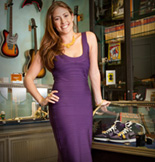 Lauren Kaminsky- aka The Gold Girl is a young entrepreneur in Manhattan. Working in her father's pawnshop is anything but ordinary and each day leads to something new. Passionate about the gold items that come her way, Lauren shares them and her daily excursions with us on this blog.