Over the past week NYC has been through one of the greatest natural disasters I probably will ever witness in my lifetime (I hope).
With electrical power plants exploding in downtown Manhattan-causing outages for days throughout the city, to flooding throughout garages, basements, and even the subway; homes were destroyed and lives were lost and even still many people are without power.  My thoughts and prayers go out to those in areas such as Staten Island, Breezy Point, & Rockaway Beach.
While many of our employees at EZ Pawn Corp were stuck with no means of transportation to get to work last week, it was up to me to run our flagship store.  I took this opportunity to really reach out to the customers- speak to them and let them know we are here for them whether it is extending a loan that cannot be paid in time to holding onto a pledge that is about to be forfeited and making sure any valuable that belongs to a customer that has sentimental value is put on the side until he/she is ready and conveying this to customers that were calling in from other locations.  I went into it assuming customers would be unhappy, agitated, and wishing they were anywhere put a pawnshop that day, yet I saw a new type of customer- one that returned my smile and was appreciative and I think just happy to know that with everything going, we can understand and work with them.
My main point in mentioning this is that I don't believe a lot of our customers were aware that what I was offering was not just because of the hurricane that had happened, or that we had been closed for a few days due to the storm.  This was  just me doing what we normally do, which is often lost in translation after the stereo-typcial pawnshop comes to mind- we help people in whatever way we possibly can.  No bank or estate jewelry buyer is going to lend you money for an item you currently have but do not need- such as a ring given to you by your grandmother- a pawnshop will make sure you get what you need in the moment (money) and will be able to get your grandmothers ring back as soon as you are back on your feet.
Besides simply being open and providing our services, EZ Pawn Corp will be collecting supplies and making donations to those areas affected by the storm.  I have sent and strongly urged employees unaffected by the storm to check out this website and see where they can help- I suggest you please do the same:  http://www.dogoodrighthere.org/blog/tue-10302012-325pm/volunteer-help-after-storm
The Goldgirl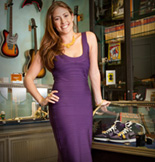 Lauren Kaminsky- aka The Gold Girl is a young entrepreneur in Manhattan. Working in her father's pawnshop is anything but ordinary and each day leads to something new. Passionate about the gold items that come her way, Lauren shares them and her daily excursions with us on this blog.