One item that I always believe will never change as a status symbol and will always remain a practical accessory, is the watch.  Below are two examples of old and new timepieces that represent distinct periods of time in watch-history, while also having intrinsic worth based on the value in precious metal, and craftsmanship in modern day.  The first is a pocket-watch that appears to be from the nineteenth century based on its simple gold casing, verge movement, and engraving on the hardware.  The second, is a 1983 Vintage 18kt gold Rolex Presidential with diamond bezel.  Both although practical pieces (for obvious reasons) are fashion statements that can outlast any fade in history.
PS: Did you know one of the earliest forms of a woman's wristwatch was worn by Queen Elizabeth in the 1500's?
I can imagine a character on the HBO hit show Boardwalk Empire wearing this pocket watch and it also being a hit on the runway being worn with a simple blazer and jeans.
 The Rolex, although more of a dress up watch, would come straight out of a show like the Sopranos, but picture a chic NYC character (think Carrie from SITC) dressing it down for an event.  
1 Comment
The Goldgirl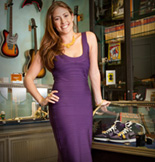 Lauren Kaminsky- aka The Gold Girl is a young entrepreneur in Manhattan. Working in her father's pawnshop is anything but ordinary and each day leads to something new. Passionate about the gold items that come her way, Lauren shares them and her daily excursions with us on this blog.