Source: http://www.thejakartaglobe.com/economy/jakartas-pawnshops-profit-big-during-ramadan/532717
Growing up, my next door neighbors observed the Ramadan holiday.  I had always viewed it as a very religious observance that had involved fasting and never thought twice about what it had meant for business.
According to this very interesting article, those preparing to observe the holiday often do so by borrowing money from pawnshops.  This being a quick and easy way to have money to spend and then repay it after the observance when you can go back to work full-time. An except from the article states:
""It's much safer if I pawn my valuable jewelry rather than taking it back to my hometown or leaving it in my empty house in Jakarta," she said on Wednesday. As people search for extra cash during Ramadan, state pawnshop operator Perum Pegadaian says it offers a quicker, easier process than local banks, which require customers to show their saving books, identity cards, tax ID numbers (NPWP) and other documents to receive loans. "
Even more interesting was finding out that not only were individuals looking to borrow, but also small business owners were too.  This was for them to ensure enough capital to purchase goods such as, Kolak.  Those are stewed bananas that many Muslims eat to break their fast.  Once the busy season is over, the business owner has made back his/her principal + interest and profit and can now pay pack the loan.
1 Comment
The Goldgirl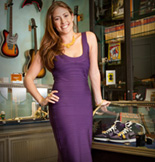 Lauren Kaminsky- aka The Gold Girl is a young entrepreneur in Manhattan. Working in her father's pawnshop is anything but ordinary and each day leads to something new. Passionate about the gold items that come her way, Lauren shares them and her daily excursions with us on this blog.