Every summer I look forward to attending the JA-Show (Jewelry trade show), not only is it a good break from daily office work but its a chance to see what else is out there in the jewelry world.
While I have only been going for the past 3 years, I have noticed a large shift in mass-produced commercial goods from high-end items in jewelry (real gold, diamonds, etc).  At first, I had thought this was due to the high price of gold and peak of the recession, however, after almost 3 years I have only seen this shift become more and more vast. Crowds of people swarm over the costume jewelry, swarovski crystals, made out of  brass and other-unknown metals.  And its great.  BUT- what about the innovative fine jewelry?  Shouldn't trade shows like this one be geared more towards whats new and out there in the jewelry world versus costume jewelry we know, buy, and see on a daily basis?
Sadly, booths like the Italian fine jewelry section's were mostly empty and quiet. I simply ventured over there to get away from the crowds- only to find some very interesting pieces:
The first is this unique Bracelet/Ring- I have seen similar items before in the pawn shop but never in so many diamonds and so beautiful:
First I put it on as a ring (it can be adjusted to fit any finger!) and then it expands into a bracelet!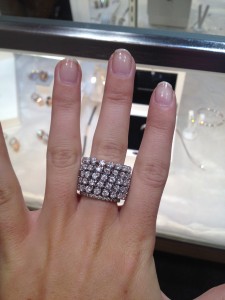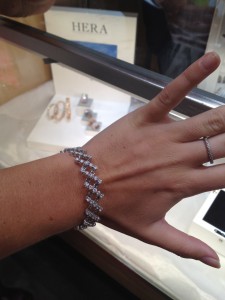 I also came across this patented and unique way of displaying a diamond to truly give off its full brilliance in a minimalist setting:
Light can hit the stone at every angle as it spins underneath the band and shines.
The Goldgirl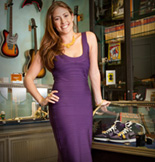 Lauren Kaminsky- aka The Gold Girl is a young entrepreneur in Manhattan. Working in her father's pawnshop is anything but ordinary and each day leads to something new. Passionate about the gold items that come her way, Lauren shares them and her daily excursions with us on this blog.