Every year, since I started working at EZ Pawn Corp, it has been important for me to get the company involved in extra curricular activities.  Some are dedicated towards charity, while others are branding events that also act as a reward for the staff members that attend (some work, then play- is always a good thing!). One of our favorite events is sponsoring Hot 97.1's annual Summer Jam Concert!
Here's a sneak peak of pics from my meeting at Emmis Communications headquarters yesterday… (anything to get me out of a spaha, maybe a future career in dj-ing?)
The Goldgirl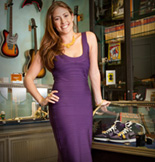 Lauren Kaminsky- aka The Gold Girl is a young entrepreneur in Manhattan. Working in her father's pawnshop is anything but ordinary and each day leads to something new. Passionate about the gold items that come her way, Lauren shares them and her daily excursions with us on this blog.