Had an unfortunate incident at the stores today and found out that a number of items that were taken in were "gold-filled" (see next post) and stainless steel, but taken in as if they were truly made up of 14kt gold.
As a 3rd-gen pawnbroker, I've learned this happens often and there are a ton of good fakes out there- however, you have got to follow your instincts and do all of the necessary tests before lending money on these items!
Here is a picture of a stainless steel necklace that is stamped 18kt gold.  Right off the bat this necklace looks and feels sketchy to me.  It is not nearly as heavy as a true 18kt chain should feel and since the metal is not as soft, it does not scratch on the testing stone the same.  The main trick here is that stainless steel does pass the 18kt gold acid test!  BUT did you try the 22kt test? It should pass that as well. Which immediately should concern you! Why would something be stamped 18kt if it is truly 22kt?  Because its not!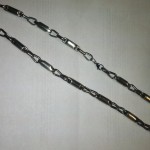 The Goldgirl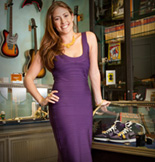 Lauren Kaminsky- aka The Gold Girl is a young entrepreneur in Manhattan. Working in her father's pawnshop is anything but ordinary and each day leads to something new. Passionate about the gold items that come her way, Lauren shares them and her daily excursions with us on this blog.