In relation to the below incident and previous post I had some fun yesterday turning a ton of fake items green yesterday.
A number of charms that came through were "gold-filled" / very heavily gold-plated.  To test these big guys I resorted to the file- which takes a small nip of the edge of the item and helps me find out if it truly is gold inside by applying the acid to that same surface (we would never do this to an item that belongs to a customer without his/her permission).  Excuse my non-manicured nails!
Step 1: Apply File to the edge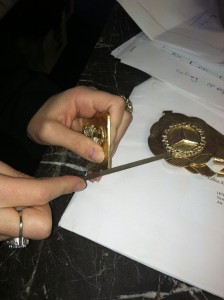 Step 2: Apply 14kt gold acid to the surface that was filed down- watch your fingers! it burns!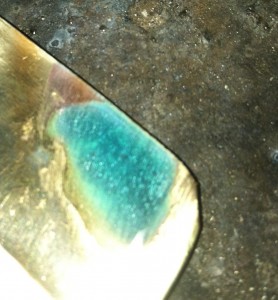 Sadly, we paid big time for these items but as the gatekeeper between the items that come in and what goes out for sale I have seen it all & am happy we caught it!
Ya Win Some Ya Lose Some, no?
1 Comment
The Goldgirl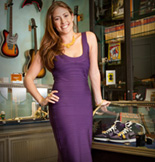 Lauren Kaminsky- aka The Gold Girl is a young entrepreneur in Manhattan. Working in her father's pawnshop is anything but ordinary and each day leads to something new. Passionate about the gold items that come her way, Lauren shares them and her daily excursions with us on this blog.