Hi! Let me introduce myself, I'm Lauren's cousin, Taylor. I am a 16 year old junior attending Baldwin High School. Well today, February 22nd, since it is my winter break I was planning on spending an entire day in the city, little did I know that hanging out with my cousin meant working my *SS off!
Things started off smooth as we visited an EZ Pawn Corp store on 14th Street where we overlooked the operations and double-checked the inventory, I learned its not easy to run a biz!
Next, we were off to the salon where GoldBar is located. I learned how to open and close all by myself, & deck the mannequin out in some blingy jewelry- I liked it there and hope to come back and get my hair done… I mean WORK!
Afterwards, we left and picked up the most amazing bagels ever at Brooklyn Bagel Company (food is very important to my cousin, IDK How she isnt a million pounds!) AND Then onwards to
"SpaHA" which felt like another world, I even said to her "toto, we are not in Kansas anymore" as we arrived!
Things here were not a piece of cake! I actually was put to work! She had me going through jewelry, listening to her dads convos, sorting items, and learning how to check diamonds (this came in handy when checking my own earrings- thank god they are real!) After 3 looong brutal hours, my work here was done & I feel accomplished that I got everything finished- including this blog otherwise I was not able to get paid!
Peace Out SpaHa! Love, TayTay
The Goldgirl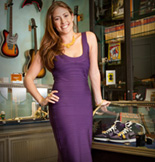 Lauren Kaminsky- aka The Gold Girl is a young entrepreneur in Manhattan. Working in her father's pawnshop is anything but ordinary and each day leads to something new. Passionate about the gold items that come her way, Lauren shares them and her daily excursions with us on this blog.