Bernie is our diamond specialist here at EZ Pawn Corp's 14th street store. Today he taught me how to look at a diamond using a "proportions scope." although this tool can easily be confused for a hot pink neon shot glass- Mardi Gras style- it actually was so cool and helpful when grading the quality of a stone!
A diamonds brilliance is often characterized by the amount of light it allows in and reflects, based on its quality of cut. This nifty scope allows the viewer to see the reflected light as a red color in a diamond, the more white light that appears through the red the less well cut the diamond really is- thus allowing "leakage" of light through the stone.
Definitely don't want to be taking shots out of that thing..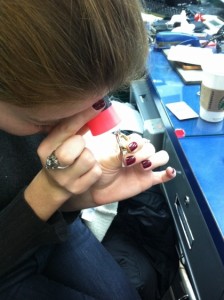 The Goldgirl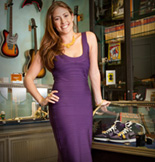 Lauren Kaminsky- aka The Gold Girl is a young entrepreneur in Manhattan. Working in her father's pawnshop is anything but ordinary and each day leads to something new. Passionate about the gold items that come her way, Lauren shares them and her daily excursions with us on this blog.