After working in the industry for many years, my father has unfortunately seen his fair share of impostor jewelry. One tip that he likes to give our staff is to really examine every marking on the item- if something is stamped 14kt, test it for 18kt and see what happens. Does it withhold the test or stick to its true gold content stamp? If it withholds to an 18kt or even higher content acid test, you can bet something is off.
Why would a false bracelet or chain claim to be a lower gold content than what it is testing to be? We strongly advise our staff to not take the risk with items that this happens to.
The Goldgirl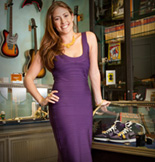 Lauren Kaminsky- aka The Gold Girl is a young entrepreneur in Manhattan. Working in her father's pawnshop is anything but ordinary and each day leads to something new. Passionate about the gold items that come her way, Lauren shares them and her daily excursions with us on this blog.